Baboom music service pre-launches with Kim Dotcom's own demo album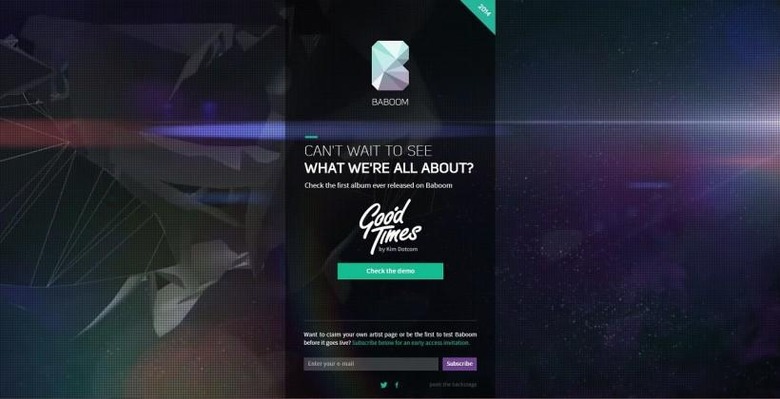 Kim Dotcom, the man behind now-defunct Megaupload and its namesake, Mega, revealed late last summer that he apparently had grown bored of his file-sharing website, and that he'd be stepping down as director in order to have more free time for other projects, one of which was said to be a music service he had up his sleeves. No details were dropped at the time, but fast-forward a few months, and now Baboom is here.
Dotcom, who has been dropping minor updates across his Twitter account, has soft-launched the service with a single album titled "Good Times," which is his own demo release also being made available on Mega. The album is 17 tracks long, and features artists Laughton Kora, Ilati, Printz Board, Mona Dotcom, Amarti, and Tiki Taane. It is available as a free download, and also for streaming.
As for the Baboom website itself, the service hasn't quite officially launched so much as it has presented a nice splash page and the Dotcom demo release, as well as the ability to claim an artists page ahead of the official live launch. There's a "Peek the backstage" option, which briefly details the who-what-why, and details in brief things like "sense of community" and who is behind the music service, as well as interesting things like the team's Instagram account.
There's not much else in the way of details right now, such as when the service will be fully opening its doors and who all is on board to offer music through the service. This launch is right on time with what Dotcom told Wired late last year, however: "We'll do a soft launch of Baboom in January where you will only see my artist page so you can see how the service works and use different options to purchase music or download it for free. The full site will launch a few months later." The National Business Review is reporting that launch has been bumped to sometime later this year.
SOURCE: National Business Review