Axiotron Modbook gets Synergy projected capacitive touch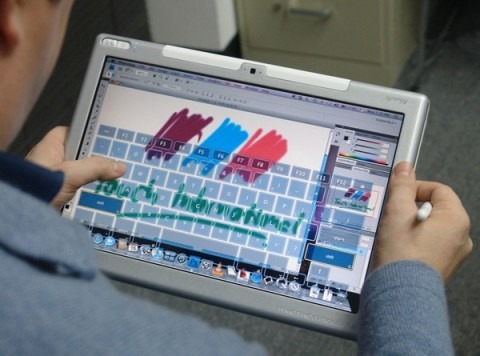 We were big fans of the Axiotron Modbook when we tested the MacBook-touchscreen slate conversion back in February last year, and it looks like it'll be getting even better with the addition of Synergy Touch.  A combination of capacitive and active digitizer touch, Synergy uses Touch International's projected capacitive technology to take advantage of both finger and stylus control.Video overview after the cut
What that basically means is that Modbook users will be able to touch their OS X slate with fingers for general use, and switch to a special stylus for more precise control.  It also supports gestures, such as pinch and drag, as seen on the iPhone and iPod touch.
Synergy Touch will be available as an option on the Axiotron Modbook and standard on the Modbook Pro starting from April 2009.  No word on how it will impact pricing.  In the video below, the concept behind Synergy Touch and its new UI is demonstrated (although not the capacitive display itself):
Press Release:
Apple Premier Developer Incorporates Touch International's Projected Capacitive Touch Screen into Mac Tablet Computers

Touch International, a leading touch screen manufacturer headquartered in Austin, Texas, joined forces with Axiotron Corporation, an Apple Premier Developer based in El Segundo, California, to integrate touch screen technology into Axiotron's Mac-based tablet computers, the Modbook® and the Modbook Pro.

"We're excited to be working with Touch International on the Synergy™ Touch technology for the Modbook and the Modbook Pro," said Axiotron founder and CEO Andreas E. Haas. "Because of their leadership in touch screen technology, Touch International is both a dependable provider of top-quality components for Axiotron as well as a valuable partner in our efforts to develop innovative products for our customers."

The Modbook was introduced to the market in December 2007. It is the world's first Mac-based tablet computer. Axiotron's 15.4-inch Modbook Pro is scheduled to be released in June 2009.

Axiotron's revolutionary Synergy Touch Technology, which will be available as an option on the Modbook (beginning in April 2009) and standard on the 15.4-inch Modbook Pro, enables both pen and touch input simultaneously. The Axiotron units incorporate a projected capacitive touch screen and electronics from Touch International and the Apple computing architecture. The result: a tablet computer superior to all other tablets on the market with unparalleled graphics performance and computing power.

With the Synergy Touch technology, on-screen buttons and shortcut keys give Modbook and Modbook Pro users a quick and smooth transition between tools and programs. This function meets the critical demands of creative professionals using graphic-intensive programs to create 2D, 3D and video images.

Touch International focused its rugged, yet highly transparent, projected capacitive touch screen solutions to companies needing iPhone-type user interface with multi-touch gesturing to pinch, expand and drag images in large format display applications. The company has fielded products from 3" diagonal for hand-held and medical markets to 22" diagonal for industrial terminals, kiosks and gaming applications.

"Axiotron is aggressive, inventive and fun to work with as they take the impossible and make it achievable," said Michael Woolstrum, Touch International co-founder and CEO. "Leveraging our joint product development on the Modbook to create the sleeker and more demanding integration required for the Modbook Pro was a challenge for both companies, but the end result created a product that is rewarding for Axiotron and satisfying to our engineers."

About Axiotron

A high-tech solution hardware manufacturing company and an Apple Premier Developer, Axiotron produces the Modbook, the award-winning tablet Mac solution. Following its unique vision of Customizing Your World™, Axiotron is dedicated to becoming a leading high-tech innovator through the conception and development of intriguing digital lifestyle products. In addition, Axiotron offers its product development expertise to companies in need of custom hardware solutions. Founded in January 2005, Axiotron is a publicly traded company listed on the TSX Venture Exchange (TSX-V: AXO) in Toronto, Canada, with headquarters in El Segundo, California.

About Touch International

Touch International, headquartered in Austin, Texas, was founded in 2002 by Michael Woolstrum and long-time veteran, Gary Barrett, the company's CTO. TI has become a world leader in touch screen and EMI filter technology. The company, with its partner DMC, Co. Ltd. in Osaka, Japan, operates eight manufacturing facilities worldwide with 1,200 employees. TI's China factories manufacture Apple iPhone-type projected capacitive touch screens, resistive sensors and glass filter products used in touch screens, EMI, anti-reflective or anti-vandal filters.