AViiQ unveils the Portable Battery Pack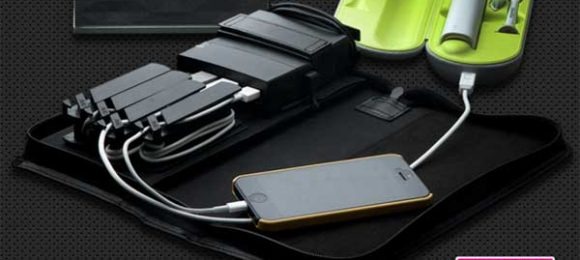 AViiQ makes all sorts of accessories for smartphones and other devices. We've talked about the company's Portable Charging Stations several times over the years. Those portable charging stations are designed to charge multiple USB gadgets from a single outlet. AViiQ is back with a new Portable Charging Station product that adds in a rechargeable portable battery.
The new product is called the Portable Battery Pack and has an integrated 5200 mAh rechargeable battery tucked away inside the bag. The battery allows you to recharge your devices on the go without having access to an outlet. Inside the bag is a Power Bank where the battery resides and a Cable Rack System.
The Cable Rack System offers four removable devices that you can coil cables around. The battery pack itself has four USB ports allowing you to charge four gadgets at the same time. The battery itself can connect to a wall outlet allowing you to charge the battery when near an outlet and your devices.
The bag is only 7 mm thick making it easy to take with you on the go. The battery will work with any USB gadgets, including smartphones, tablets, portable speakers, and even electric toothbrushes. The Portable Charging Station is available now for $159.99.