Avi Greengart's Toy Fair 2012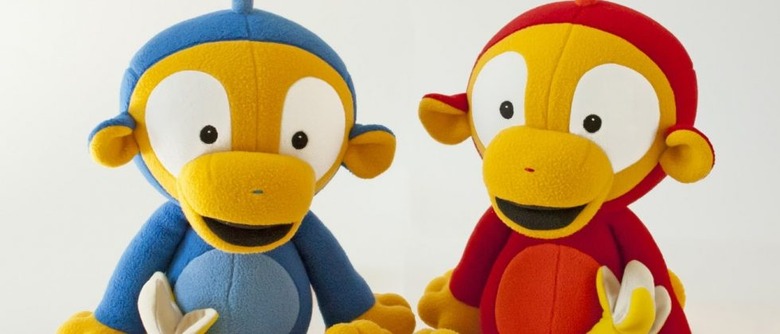 I have attended and spoken at a lot of trade shows over the years – consumer electronics, telephony, computing, broadcasting, database programming, home theater, whatever SXSW is – but I have always wanted to go to Toy Fair. Even the name of it sounds like fun – who doesn't like toys? This year I finally found an excuse to go, and it wasn't to see Star Wars toys. (Well, at least it wasn't the only reason.) At CES this year, there were tons of connected toys – board games that interact with an iPad, children's educational tablets, and lots of flying things with iPhone controllers. I covered a few of these in my holiday gift guide, but thought that it would be worth attending Toy Fair 2012 and seeing how deeply connectivity really went in the toy industry. What new gadgets would I find? Are vendors embedding 3G and 4G radios into toys, or just WiFi? Toy Fair agreed, and gave me a press pass.
After an exhausting day walking the show floor and paying $4.50 for a bottle of water (this is why you can't have nice things, New York City), I realized that instead of writing a column about all the cool connected toys I discovered, I was going to end up with something quite different. First of all, Toy Fair reflects an industry with a few very large players – Toys R Us, Walmart, and Target – and a lot of very small independent toy shops. My guess is that the big box stores don't need Toy Fair – the big vendors court them year round.
As a result, most of the Toy Fair exhibitors seemed to be aiming at buyers for mom and pop stores, and were not quite sure what to do with someone with a press badge. For example, when I would ask about pricing, I was consistently given wholesale pricing by the case – something that never, ever happens at CES, E3, IFA, or even CEDIA, which is aimed at retailers/installers. The booths reflected this emphasis as well; there were aisles and aisles of educational toys, stuffed animals, and crafts – the sort of merchandise you find in independent toy stores. The odd thing was that there wasn't much in the way of associated services (finance, inventory management software, buyer's collectives). The odder thing was that none of the goods on display had any sort of connectivity.
[aquote]I was taken aback that connectivity was missing from products like science kits[/aquote]
I wasn't shocked to find that green toys promising old fashioned play value from companies like Box Creations had not added WiFi routers to their cardboard forts. I understand – and appreciate – that independent stores are looking for products with play value that utilizes a child's imagination and encourages deeper play than pushing a button on the back of a doll that says how much it likes fashion and hates math. However, I was a bit taken aback that connectivity was missing from products like science kits, where a smartphone app could be used as a way of instructing, monitoring, and interacting with the circuits/chemicals/biology components.
That's not to say there weren't any geeky toys on display:
• littleBits was showing off new components for its system, which can be best described as BugLabs for kids.
• LEGO Systems had new packaging for Life of George, which makes it much clearer that this is an iPhone/LEGO brick combination game rather than a regular box of LEGO. The goal of the game is to quickly build LEGO sculptures that match the picture on your iPhone, which then uses its camera to verify the accuracy of the model. Future variations on this theme are planned. LEGO's Mindstorms robotics kits were not at the show because the company had nothing new to show off, but an official WiFi module and a 3G module would significantly broaden the uses for the system.
• ThinkGeek had a table with various products from its catalog and online store, along with a prototype of a Bluetooth game controller for iOS devices that looks like an original Nintendo 8 bit game pad. Still, my personal favorite was the lightsaber candle holder, which looks even better in real life as it does in the catalog.
• TeeGee launched an intriguing interactive stuffed animal of the same name. The twist on this modern Teddy Ruxpin (that looks like the offspring of a TeleTubby and a monkey) is that you're supposed to hide an iPhone or iPod touch inside, which is used for voice recognition, speech, and gameplay.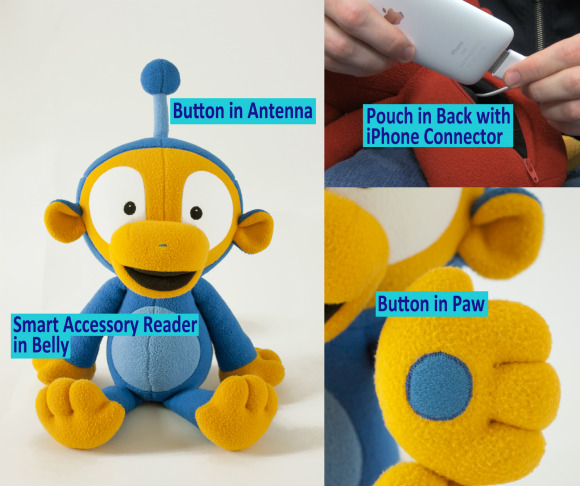 • DANO Toys was showing off its App Crayon, a child's stylus for the iPad, along with separate educational apps, such as one that teaches writing to children. There are a lot of styli out there, and some have much stronger brand associations; DANO needs to combine the hardware with the software if it wants to get shelf space.
• There were several vendors showing off Android tablets for children, but, frankly, they all looked terrible. Terrible interfaces, terrible educational software, terrible industrial design.
• Even if there were few genuinely mobile toys, mobile gaming's influence was strongly felt: Angry Birds was just everywhere. I saw Angry Birds stuffed animals, Angry Birds nightlights, Angry Birds slingshots, foam rockets, flashlights, pens, backpacks, hats, keychains, swirly thingies... and more than one item I couldn't identify. I even saw a fully analog version of the Angry Birds game: Angry Birds Knock On Wood, from Mattel. I can't quite pinpoint why this should exist outside of physics teachers and Orthodox Jews suffering from smartphone withdrawal on the Sabbath, but it won a Toy of the Year award.
Finally, while it had nothing at all to do with my original notion of finding connected toys, I was intrigued by Nano Magnetics' booth full of Nanodots sculptures. Their PR person gave me a vial of their tiny magnets, and I feel urged to warn SlashGear readers to avoid these addictive things at all costs, as there is an inverse relationship between playing with them and productivity. For example, I started writing this paragraph an hour ago.