AVADirect Quiet Gaming PC Custom System (Z77, Core i7 Ivy Bridge) Review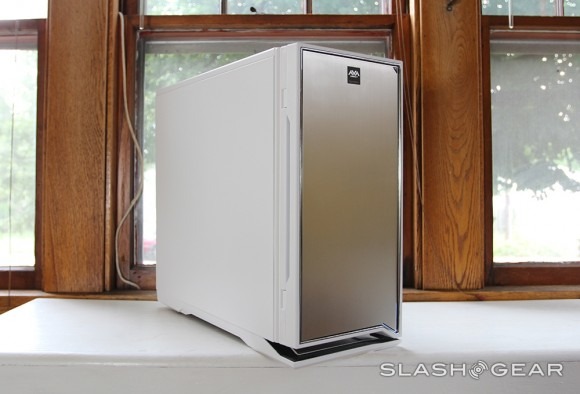 Today SlashGear has a real treat for those of you looking for no less than a top of the line gaming tower. This is the AVADirect Quiet Gaming PC build we've got here is a lovely combination of white plastic, metal, massive amounts of power, and processing so quiet it's scary. This is without a doubt the most impressive PC I personally have reviewed for SlashGear, and with the custom build we've got waiting for you in this hands-on look, I fully expect you're going to be scrambling to break your piggy bank to count up to $2019.16 USD to buy your own. Check it out!
Case
This case is massive, gigantic, and certainly not made for hauling around to LAN parties – there's no handles here, folks. Instead this machine is made to remain stationary, made with so many fans and air ducts that it'll never, ever get hot (it might, but we've not seen it yet), and it's clean. This machine looks fabulous, with a classy white combination of plastic and metal parts and safety bumpers all around so there's no clunks or clanks when you're opening or shutting doors.
The front of the machine has a flat aluminum shape to it with a couple of peek-holes you'll be able to see in the hands-on look at the machine in the video above. This front panel is a door which reveals your DVD drive, memory card ports, and whatever else you want to attach in the racks on racks on racks available throughout the front of the machine. This machine comes with room for so much customizability right out of the box it's absurd.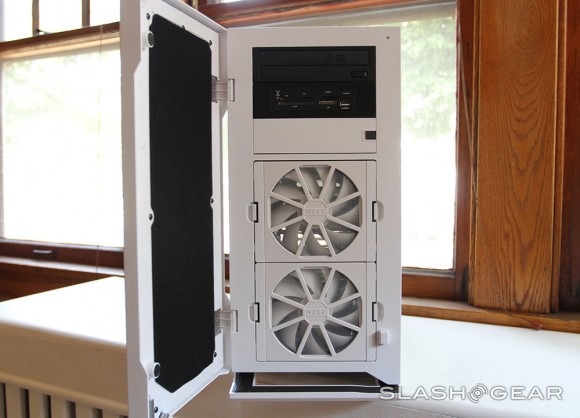 The back of this AVADirect tower has a massive collection of ports which you'll read about below and will be able to see in the hands-on video above. It's all very neatly arranged, and up on top of the tower you've got a few more for good measure. The bottom of this case has that unique boost not just for your visual pleasure, but so air can move through the machine top to bottom. The bottom is open so air can travel through the case downward, upward, out the back, and out the front as well – there are fans behind that door up front and there's a dust catch you can remove and clean underneath as well!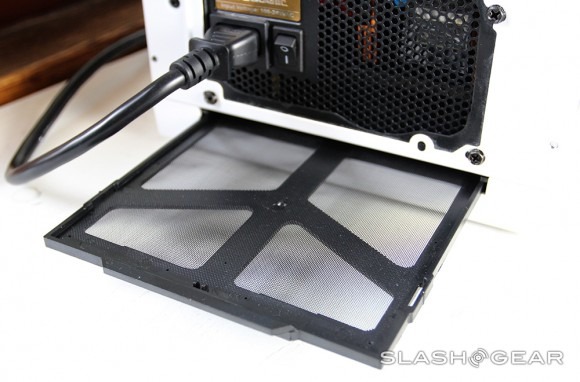 You've also got two distinctive sides to this machine, with the right side having a small area for cords to rest in, keeping them clear of the other side which is the deep home for all of your massive bits of next-level gear. For those of you that love lights, you'll find a few well-placed green LEDs sitting down deep in the guts, blinking like it's no big deal, while a couple of white lights shine up front through those crevices mentioned above so you know the machine has been turned on. Again – if you didn't have a monitor plugged in to show you that the beast was turning on, you might never know it for how silent it is – that's what the lights are for.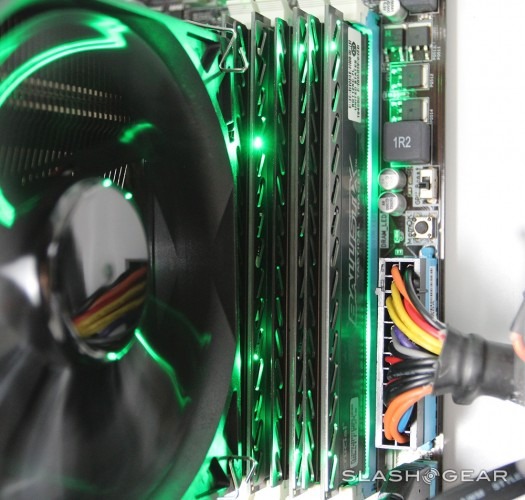 Sound Levels
With this build you'll find a total of seven fans, eight if you count the one attached to the 3rd Gen Intel Core i7 hardware. With that many fans you might expect quite a bit of rustling to be going on inside this box, but no. You have to get up within a foot of this device to hear it make a sound – it's that quiet. This device has SPCR Certification for quietness. This means that it must run under 20dBA at idle as well as under 27dBA under maximum load. Check out more about SPCR Certified PCs to get an in-depth idea of what this means for your own gaming room. Don't expect to be lulled asleep by the hum of this machine – there really isn't any.
Custom Build
This monster has a set of specifications that I do not hesitate to say are a dream for our modern age of gaming. In addition to the massive amount of ports you get on the top and back of this machine, prepping you for any and all display, 3rd party connection, and memory card situations, you've got processing and graphics power that'll blow your socks off. You'll notice at this point that I'm having trouble finding much that I do not like about this system, and for that I apologize – I'm a sucker for fantastically constructed machines.
QUIET GAMING PC, Core™ i5 / i7 Z77 Low-Noise Custom Gaming System

• NZXT H2 Classic Silent White Mid-Tower Case, ATX, No PSU, Steel/Plastic

• ANTEC TruePower New TP-750 Power Supply, 80 PLUS®, 750W, 24-pin ATX12V EPS12V, One 6-pin + Two 8-pin PCIe, SLI Certified

• ASUS P8Z77-V LX, LGA1155, Intel® Z77, DDR3-2400 (O.C) 32GB /4, PCIe x16, SATA 3Gb/s RAID 5 /4, 6Gb/s /2, HDMI + DVI + VGA, USB 3.0 /4, HDA, GbLAN, ATX, Retail

• Intel Core™ i7-3770K Quad-Core 3.5 – 3.9GHz TB, HD Graphics 4000, LGA1155, 8MB L3 Cache, 22nm, 77W, EM64T EIST HT VT-x XD, Retail

• PROLIMATECH Megahalems Rev. B CPU Heatsink w/ Dual 120mm NB-Blacknoise SilentPro PL-1 Ultra Quiet Fan, Socket 1155/1156/1366/775, Nickel Plated Copper, Retail

• Arctic Silver 5 Thermal Compound, Polysynthetic Silver, Electrically Non-Conductive

• CRUCIAL, 16GB (4 x 4GB) Ballistix Tactical Tracer w/ LEDs PC3-14900 DDR3 1866MHz CL9 (9-9-9-27) 1.5V SDRAM DIMM, Non-ECC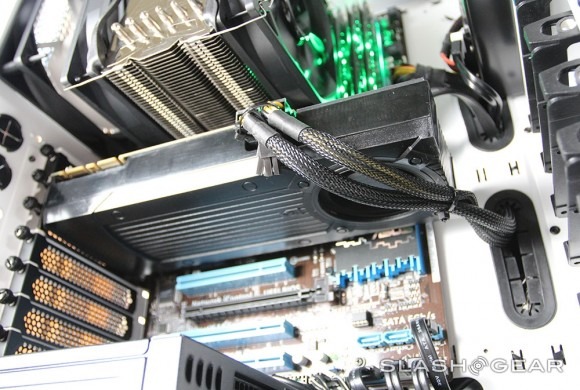 • NVIDIA GeForce® GTX 670 950MHz, 2GB GDDR5 5000MHz, PCIe x16 SLI, 2x DVI + HDMI + DP, OEM

• OCZ, 120GB Vertex 3 SSD, MLC SandForce SF-2281, 550/500 MB/s, 2.5-Inch, SATA 6 Gb/s, Retail

• Western Digital 1.5TB WD Caviar® Green™ (WD15EARX), SATA 6 Gb/s, IntelliPower™, 64MB Cache

• SONY AD-7280S Black 24x DVD±R/RW Dual-Layer Burner, SATA, OEM

• SABRENT CRW-UINB Black 65-in-1 Card Reader/Writer Drive, 3.5" Bay, Internal USB

• CUSTOM WIRING, Standard Wiring with Precision Cable Routing and Tie-Down

• Smart Drive NEO Standard Silent Hard Disk Drive Enclosure, 5.25"

• Lamptron Deluxe Black Shakeproof PSU Gasket Silencer

• Microsoft Windows 7 Home Premium 64-bit Edition w/ SP1, OEM

• Silver Warranty Package (3 Year Limited Parts, 3 Year Labor Warranty)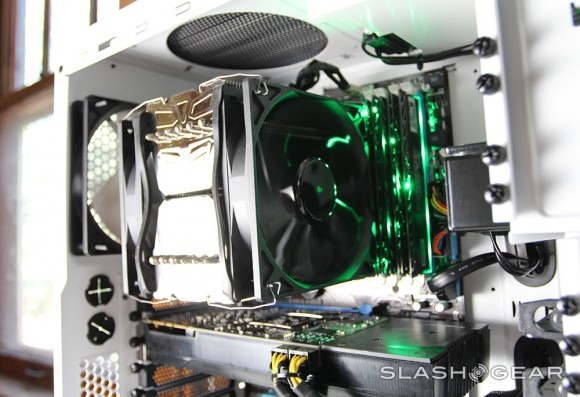 This build will cost you, again, a total of $2,019.16 in all, and if you're wondering how much it cost to ship from the AVADirect facilities in Twinsberg, Ohio to where this review is taking place in Saint Paul, Minnesota here it is: $58.23. Not so devastating a shipping cost at all. Especially considering how well it was packaged – they even stuffed the inside of the unit with padding to assure nothing wiggled loose!
Benchmark Results and Performance
Have a peek at our standard test results here picked up by GeekBench. You'll find that nowhere in our history of Desktop Reviews will you find a more powerful system, and of course the Laptop Reviews don't stand a chance either.
[sgbenchmark id=170 show=score]
We tested out Batman: Arkham City and we tested out Portal 2, Skyrim and Crysis 2, we played some HD videos and we rocked out a couple monitors at a time – and there's nothing, no waiting time, everything is swift – it's like this machine was made for the future. Have a peek at some more of the inner bits of the machine here as well:
[sgbenchmark id=170 show=system]
The Bottom Line
This machine is well worth the cash you're going to pay for it. For the couple thousand dollars you're going to drop on this exact build you still couldn't get the least expensive Mac Pro, and I dare you to find a more well put together PC for this kind of cash. This custom-made conglomeration of top-tier gamer-friendly parts makes me want to forget about factory built machines entirely. There's just no going back after this.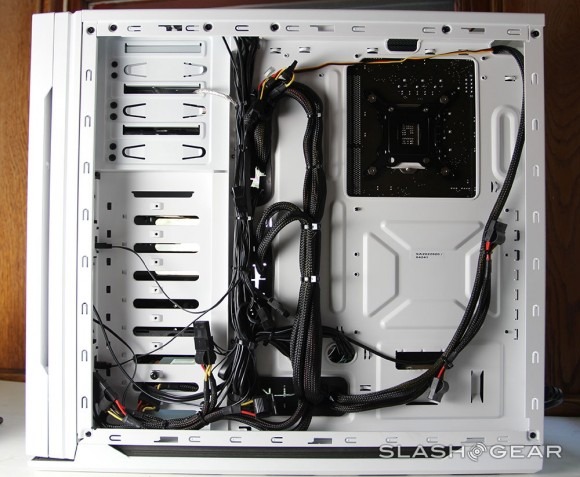 If you're not all about having the best of the best or have no use for processing and graphics power that's going to blow you away with even the most heavy games on the market, this build is not worth the cash. You can pick up the standard build of this machine – with the silence, the case, and slightly lower power than what we've got here for $1107.51 from AVADirect too – that's probably going to be good enough for most gamers out there on its own.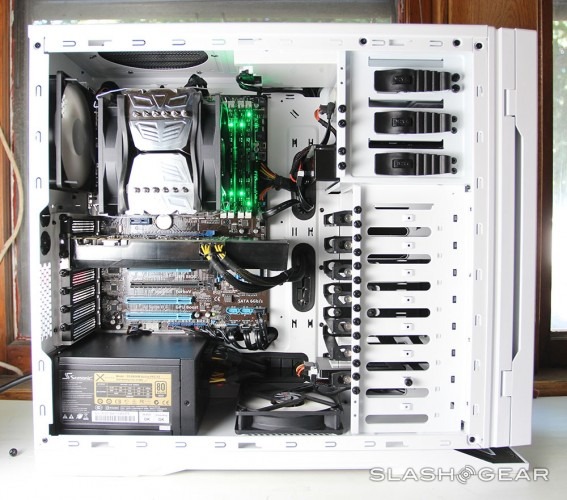 If however you want the most powerful, silent, and aesthetically pleasing gaming PC on the market, this is it. You can grab it from AVADirect's online store today – and don't forget to customize!