Auxillite Lets You Listen To Music And Charge Your iPhone 7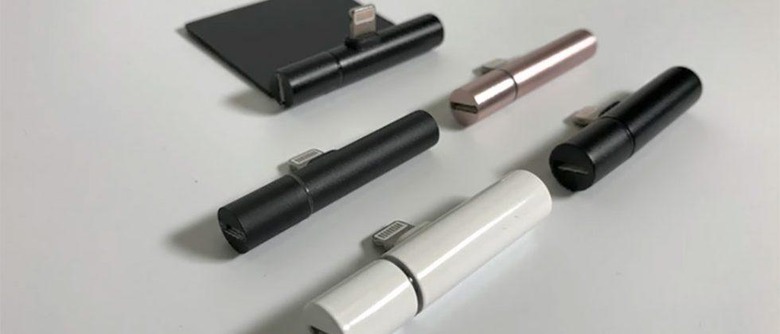 As cool as the new iPhone 7 is, one thing that lots of people didn't find cool was the fact that Apple ditched the 3.5mm headphone port. This meant that to use your old headphones you had to resort to an adapter. The catch is that if you want to listen to music with the headphone adapter and needed to charge your device at the same time, you had to choose one or the other. You won't have to make that decision anymore with the Auxillite 2-in-1 DAC that has landed on Kickstarter.
There are two versions of the device with one being the Auxillite only and the other a version of the Auxillite that has a stand built in to hold your phone up. The device comes in black or silver colors and there are version to support Android devices. That said, since Android devices have a 3.5mm port I am not sure what the appeal of the Auxillite might be to these users.
The iPhone 7 version supports Quick Charge and has an LED indicator but in. It supports music, video audio, video chats, and podcasting. The audio is 24-bit enhanced quality. The device is very small at 8mm in diameter making it easy to carry with you. The device is also water resistant as well as dust resistant with IP67 certification. Auxilite is also designed to work with most cases on the phone.
Auxillite is seeking $60,000 and has raised over $56,000 so far with 23 days to go. A single Auxillite will cost $13 with shipping estimated for January 2017. The Auxillite S with stand is $17 or more.
SOURCE: Kickstarter