Automotive seats of the future will be Bluetooth connected and self-adjusting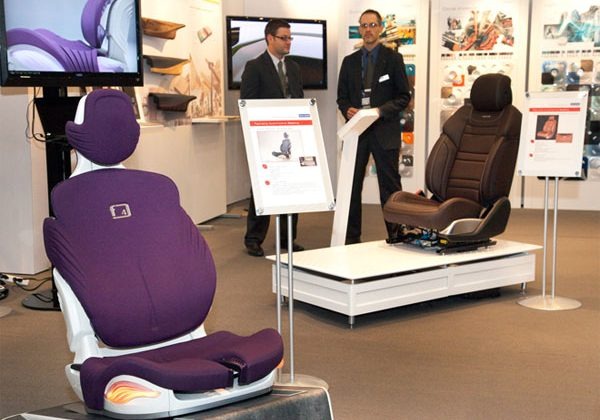 Some accessories and features that make their way into automobiles leave me scratching my head. Others make a lot of sense and are definitely worthwhile. One of the accessories that showed up to 2012 LA auto show is of the sort that leaves me wondering about the usefulness of some features of the accessory.
A company called Faurecia was on hand at the auto show showing off new car seats that offer deep body hugging bolsters, electronic controls, and the ability to give you a back massage while driving. Massaging isn't the key feature here; Ford already offers that on some of its automobiles from the factory. The head-scratching feature in this particular seat is Bluetooth connectivity.
Bluetooth connectivity allows the seat connect to an app running on your smart phone giving you complete control over all functions using your phone. Why you would want to reach into your pocket, get out your smart phone, and then adjust your seat is beyond me when you simply reach down on the side of the seat and make the adjustments directly.
The seat offers 12 way adjustability and nearly infinite configurability. One interesting aspect of the app is that it takes basic measurements of the person sitting in the seat such as height, weight, and gender. You can even snap a photo of yourself to provide the seat with information about your posture and stature. Once that information is put in the seat will automatically adjust itself to what it believes is the optimum fit. That's actually pretty cool.
[via Wired]