Automatic Downloads added to Mountain Lion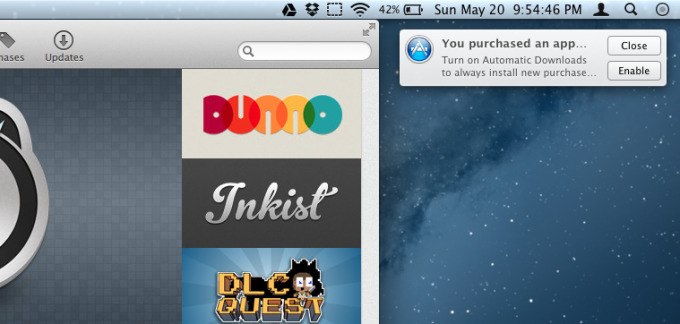 Apple continues to add more and more iOS-like features to Mountain Lion. The latest addition to the developer preview brings the Automatic Download function for apps purchased from the OS X App Store. Just like iOS, once you enable this feature any Mac that is logged on the same account will automatically download purchased apps. The feature doesn't seem to be fully baked in just yet, however.
The pop-up dialog for the feature has been added to Developer Preview 3, but the functionality doesn't actually work yet. When it does, you'll have the option to enable the feature so that apps can be synced across multiple machines, or to simply ignore the pop-up window and micromanage everything instead.
Apple continues to make tweaks and improvements to Mountain Lion ahead of its release this summer. Previous additions to the Preview have included a "Do Not Disturb" feature, Twitter notifications, as well as various bug fixes. The main focus of Mountain Lion has been to bring some iOS features across to the desktop, such as a Notification window, a new Messages app with support for iMessage, Game Center, Reminders, AirPlay Mirroring, and Gatekeeper.
[via 9to5Mac]