Audyssey Lower East Side Media Speakers promise sound and looks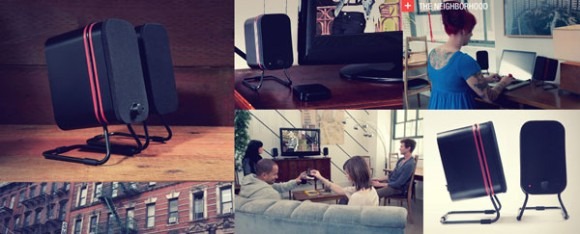 Many of the speakers that I see for computers sound pretty good, but aren't particularly nice to look at. The problem comes when the wife sees them and says they are ugly. Honestly, most speakers aren't really that attractive so I can relate to those that want sound quality but also want something that looks good, especially if your computer is in a common room of the house. Audyssey has a new set of multimedia speakers that look really cool.
The speakers are based on the style of the Lower East Side in NYC. Apparently, the area is black with lots of wire and red trim. The speakers sit on a stand and have read trim that round around them. They will connect with digital optical audio and with an analog 3.5mm cable if you have one. That means they can be connected to your music phone or laptop and to your TV with optical output.
The speakers each have a 0.75" silk-dome tweeter, a 3.5" woofer, and a 4" passive bass radiator. They measure 6" x 5" x 9.3" and weigh seven pounds. The volume control is on the front for easy access and they will automatically go into standby mode. You can get them for $199.99 now.