Audi's S3 super limited edition will come in 5 colors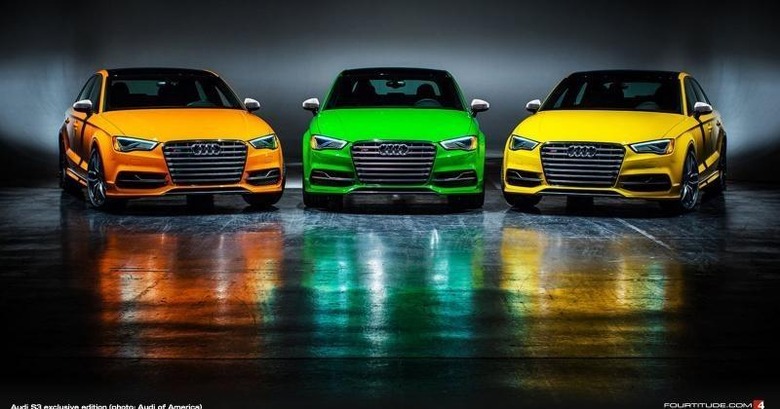 Remember the Audi S3 that we took out for a drive last year? We noted that the sedan delivered its promised of performance that won't fight you, albeit with a rather playful streak. We also noted, however, that the design, while distinctive, was more low key. But now true fans of the car have a chance to make them shout, with a splash of color and a stitch of luxury inside. Audi has just confirmed an extremely limited exclusive edition of the S3 that will come in five striking colors.
OK, actually there are only three new colors in this limited edition set: Vegas Yellow, Viper Green and Glut Orange. The color options of Sepang Blue and Misano Red have already been available to the masses anyway. That said, being a limited edition, even these two will get some special treatment, especially inside, where the luxury of the exclusive edition really shines through.
Fine Nappa leather. Audi exclusive leather with contrast stitching that cover door arm rests and knee pads. Audi exclusive leather with contrast stitching on the wheel and gear shift. S Sports seats. And an Audi exclusive inlay that will match the body color of that particular car.
And how limited will this super limited edition be? There will only be five cars for each color, meaning that, across the entire US, there will only be 25 in total of these sedans. The cars that will come in the three new colors will cost $59,900 each. The 10 that will come in the almost regular Misano Red and Sepang Blue, on the other hand, will have a slightly lower $57,250 tag. No details yet on how to avail of this super limited offer.
VIA: Fortitude