Audiovox and FLO TV service headed to new car dealers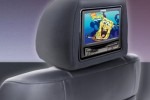 Any parent will tell you that the key to surviving trips of any length in the car with kids is a TV inside the car. Without a TV, a long road trip would be hellish with my kids. The other issue when you have a TV inside on long trips is that the kids get tired of watching the same old movies after a while. Audiovox and FLO TV have announced that their live TV system for vehicles is making its way to new car dealers around the country.
The two firms have announced that the FLO TV service will be offered at 12,000 different new car dealers in 85 different markets around the country. The extensive movie TV network that goes along with the hardware is set to debut in Q4 2009.
The FLO TV Auto Entertainment system will be sold under the Audiovox brand and will be compatible with all makes and models of vehicles. The systems will include overhead and headrest units with screens up to 10.5-inches. Many vehicles already on the road will be able to be retrofitted with the system. Annual plans for FLO TV will cost $119 per year and 3-year plans will sell for $299.