Audio-Technica AT-LP120-USB turntable breaks cover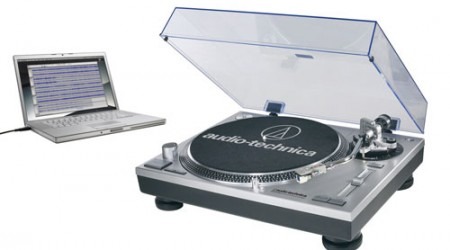 Audio-Technica has been making audio products like headphones and turntables for a long time. We may be in the midst of the digital music revolution with most other music formats becoming an afterthought to many consumers, but there are still those out there who like the old school sound of vinyl.
If you are the type that likes to play your old vinyl records and you need a new turntable that can be easily connected to your PC, Audio-Technica has a new high-end product for you. The turntable is called the AT-LP120-USB and has a direct drive motor with forward and reverse back-cuing capability. I take that to mean the thing can scratch DJ Jazzy Jeff-style.
The turntable can play records in 33-1/3, 45, and 78 RPM modes. The platter is made from cast aluminum and has a slip mat on top. The arm has soft damping control and adjustable tracking force. A USB cable for connecting to your PC is included. The turntable will be available this month for $429 and ships with software for Mac and PCs to convert vinyl records to digital tracks.