Audi Unveils Revised R8 V10 RWD And R8 LMS GT4 Racer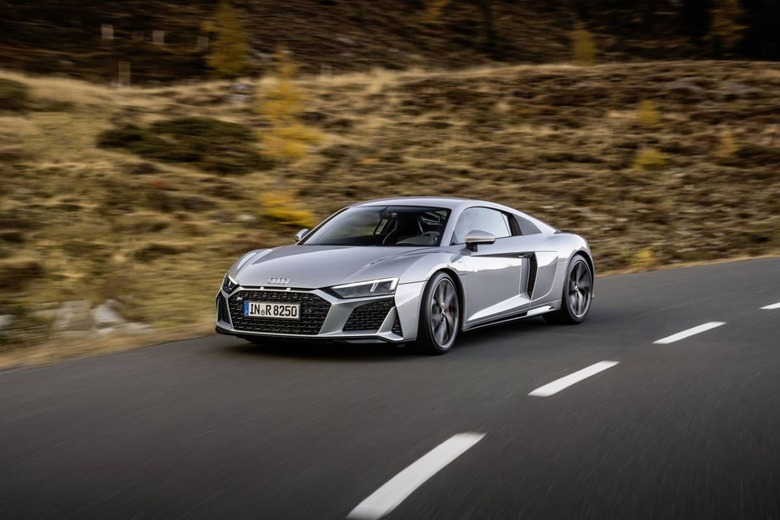 Audi has pulled the covers off a couple of new R8 models that will have fans of the sports car excited. The new vehicles include the Audi R8 V10 RWD and the Audi R8 LMS GT4. Audi says that the R8 V10 with rear-wheel drive is becoming a permanent model and is being redesigned to make it more striking. The RWD R8 will have the same features as the R8 V10 Quattro models.
That means the V10 in the middle of the car makes 540 PS and 393.3 lb-ft of torque. The engine is paired with a 7-speed S Tronic transmission and a mechanical locking differential. Audi will offer the R8 RWD in both the coupe and spyder versions. The exterior has a broader and flatter Singelframe, and the front splitter and the air outlet grille at the rear are wider.
The rear diffuser has two oval tailpipes and are moved further upward. The air filter in the engine compartment is placed under a new cover that can be had in plastic or carbon fiber. The sideblades of the RWD version of the car are special with the top in glossy mythos black, and the bottom blade painted body color. The car can be had in Kemora gray, and the interior has sports seats covered in Alcantara.
Audi says that the car has a 40:60 weight distribution, and the coupe weighs 3,516 pounds, making it about 143 pounds lighter than the Quattro version. The coupe version will sell for 144,000 euros with the Spyder starting at 157,000 euros. Both will launch at the beginning of 2020.
The R8 LMS GT4 race car is derived from the production model with 60% carry-over parts. The car is intended for privateer drivers. The engine used in the car makes 495 horsepower and uses a 7-speed dual-clutch transmission. The racer has for the first time ABS braking and traction control that can be adjusted. There are eight settings to match weather and driving conditions. The GT4 racer uses the steering wheel from the GT2 racing car.