Audi Sport Quattro Concept revealed in Frankfurt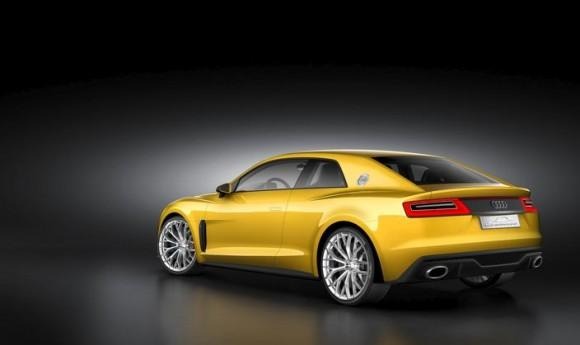 A few days back Audi was teasing car geeks all around the world with a dark and ill-defined image of a new concept car it promised to unveil at the 2013 IAA show in Frankfurt. Audi's is finished teasing and has unveiled images of the incredibly cool Audi Sport Quattro concept. Audi says that the car was designed to help celebrate the 30th birthday of the Sport Quattro.
The vehicle has some very attractive lines and a cool interior paired with an interesting plug-in hybrid drive system. The total output from the hybrid drive system is a whopping 700 hp. The concept car has a wheelbase of 109.61-inches, is 181.18-inches long, and a width of 77.32-inches. Audi says the car is also unusually low-slung at 54.57-inches.
The concept car uses rectangular double headlights with Audi Matrix LED technology inside. Those headlights will be available first by the end of the year in Audi's refreshed A8. The LED headlights use a high beam unit comprised of numerous individual diodes. They work in conjunction with upstream lenses and reflectors to deliver lots of light and can be deactivated or dimmed individually depending on the situation.
The car certainly looks cool, but for fans of cars what's under the hood is one the most important things. I previously mentioned that the total output of the plug-in hybrid drive is 700 hp. Power from the hybrid system goes to all for tires through a modified eight-speed tiptronic transmission. Audi says that the car gets 94.09 MPG while producing only 94.95 g per mile of CO2. To achieve that fuel efficiency claim, the car uses cylinder deactivation technology and start-stop technology.
The combustion engine itself is a 4.0-liter twin turbo V8 producing 560 hp and 516.29 pound-foot of torque. The electric motor produces 110 kW and 295.02 pound-foot of torque. It's located between the combustion engine and the transmission. The lithium-ion battery pack has a capacity of 14.1 kWh. The vehicle can also offer a in EV mode with propulsion by the electric motor alone.
SOURCE: Audi