Audi Q8 SUV line expands with a pair of new V6 engine options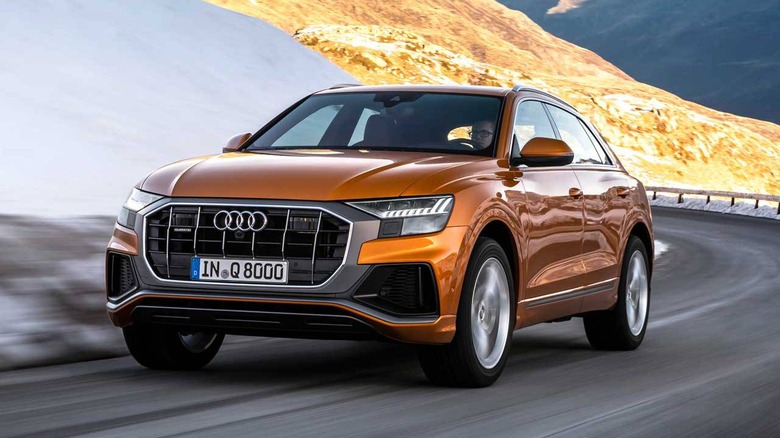 Audi has announced that SUV shoppers eyeing the Q8 now have a pair of new options when it comes to engines. The Audi Q8 55 TSFI is now equipped with a six-cylinder spark-ignition engine that displaces 3.0L and makes 340 metric hp. Torque output for the new 3.0L V6 is 368.8 lb-ft.
Audi's new gas-powered V6 makes such high torque and horsepower numbers thanks to turbocharging. The Q8 fitted with this engine option can reach 62.1 mph in 5.9 seconds on its way to an electronically limited top speed of 155.3 mph. The second new engine is a 3.0L V6 diesel.
The diesel V6 makes 231 metric hp and has the same 368.8 lb-ft of torque rating as the turbo gas V6. The diesel-powered V6 engine pushes the Audi Q8 45 TDI to 62.1 mph in 7.1 seconds with a top speed of 144.8 mph.
All Q8 engine options are paired with a mild hybrid system that reduces fuel consumption by up to 0.7L per 100 km. The mild hybrid system uses a lithium-ion battery and a belt alternator starter to supply 48V to the main electrical system of the SUV. The system recovers up to 12 kW of energy and feeds that into the battery.
The system allows the Q8 to coast between 55 and 160 km/h for up to 40 seconds with the engine off if the driver releases the accelerator. The Q8 uses Audi's famous quattro permanent all-wheel drive and an 8-speed tiptronic transmission. Audi's Q8 55 TFSI lists for €76,300 and the Q8 45 TDI lists for €73,300 in Germany.