Audi Q8 sport concept teases world-first hybrid tech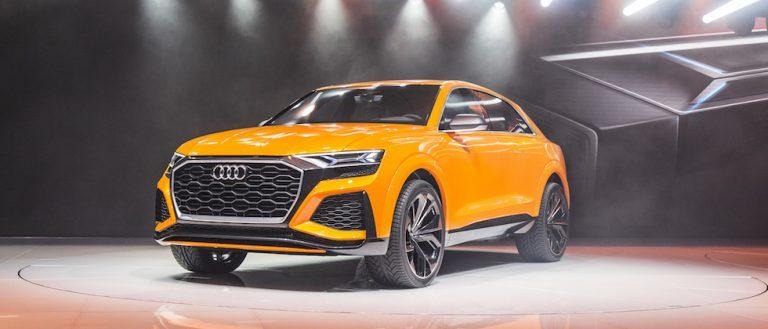 What if I told you that you could have the luxury of a big SUV, the performance of a V8, but the economy of a four-cylinder? That's what Audi is promising with the new Q8 sport concept, a second take on its SUV-range-topping Q8 concept that throws some "mild hybrid technology" into the mixture. And, while they may be saying "mild", this is no shy, retiring truck for the school run.
Instead, it's a legitimate SUV performer. Audi combines a 3.0-liter TFSI six-cylinder engine with a 20 kW electric motor and an electric-powered compressor, a world-first according to the automaker. The result is 476 horsepower and a hefty 516 lb-ft. of torque. 0-62 mph comes in 4.7 seconds, while tp speed is over 170 mph.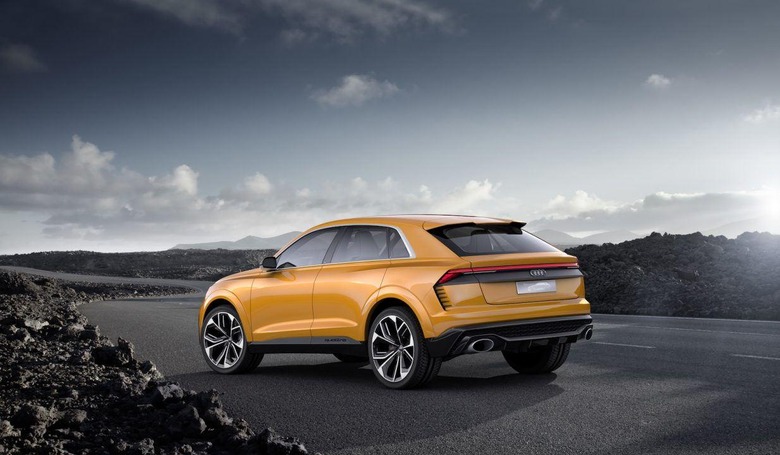 The gas engine has 450 HP alone, while the electric motor adds its own 20 kW and 125.4 lb-ft. of torque to the party. A 0.9 kWh battery under the trunk isn't exactly huge in hybrid terms, but it's enough to keep the gas engine shut off when you're dealing with low-speed stop/start traffic, as well as when cruising around the parking lot.
It's not the only special feature. Audi has put the starter generator between the crankshaft and the 8-speed transmission, and it can run in the opposite direction to act as an additional electric motor on 48V power. That allows for boost when you need it, while the electric compressor pushes extra air into the twin-turbochargers on the gas engine when exhaust gas alone would be insufficient. The result, Audi says, is a turbo engine without turbo lag.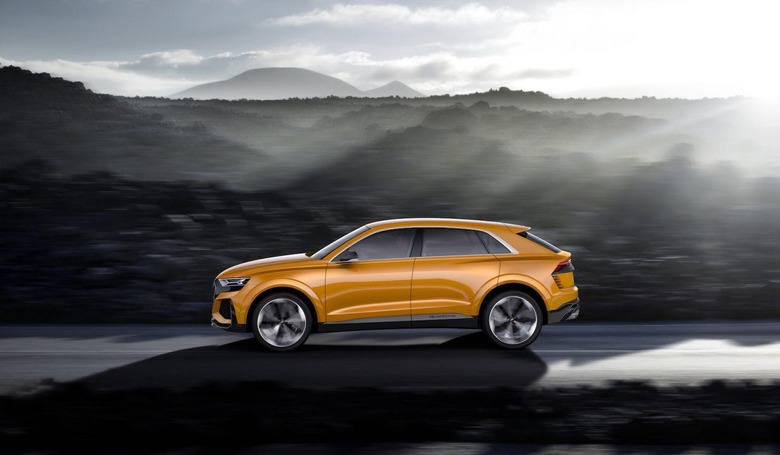 Permanent quattro all-wheel drive is included, as is adaptive air suspension with the ability to adjust the Q8 sport concept's ride height across a 3.5-inch range in five increments. 23-inch wheels get 20-inch ceramic disc brakes. Using the route data from the navigation system, as well as Car-to-X infrastructure, the SUV can automatically adjust its settings to deliver the most efficient driving.
Versus the first Q8 concept we saw in Detroit a few months back, the Q8 sport concept is wider and more aggressive in its styling. Carbon-fiber trim and brushed aluminum provide a contrast to the krypton orange paint. The trunk offers 22.2 cubic feet of space.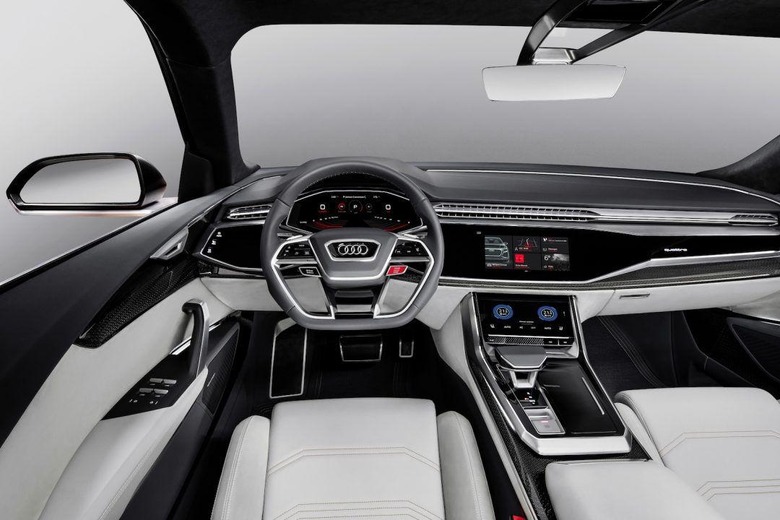 Clamber in, and there's space for just four people. A new version of Audi's Virtual Cockpit is paired with a head-up display and a number of touchscreens, along with LED mood lighting. A floating center console holds the shift-by-wire transmission control, and there's plenty of leather, aluminum, structured textile, and carbon fiber to be found.
As with the Q8 concept, any production version of the Q8 sport concept is likely to tame some of the more showy features. All the same, Audi has indicated that it has real intent for a top-tier luxury SUV that would do for the Q-series what the A8 does for its sedans. Expect to see hybridization like this show up there and elsewhere in the company's range.