Audi plans to have robots move cars around in the plant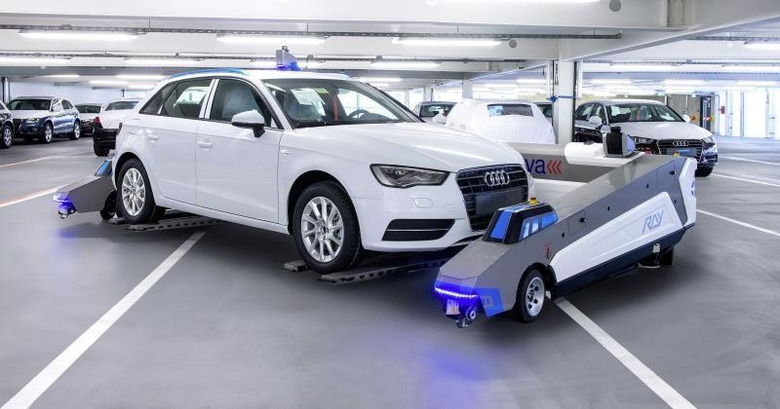 Audi may have given its human employees to either rejoice or curse advancements in robotics technology. It is announcing the start of a testing phase for driverless transport systems, but this time it will not be the car itself that will be driving around. Instead, it will be a robot named Ray that will be lifting and transporting, not driving, cars that are still in production from one place to another. The car makers hopes that the new technology would make the production and logistics process more efficient, and maybe give their humans a break.
To be fair, the Ray robot isn't Audi's. Instead, it came from Bavarian company Serva Transport Systems and was designed to give automated parking a bit of a twist. Instead of self-parking cars, which not everyone has, Ray is a robot that parks your car for you. It was designed to work with stacks, really rows and columns of cars, with speed and efficiency. Something that a car production pipeline definitely needs.
The robot itself isn't exactly spectacular to look at. It's a frame six meters long and three meters wide but it can adjust its size to fit any car within a 5.3-meter size range. Its sensors determine the position, orientation, and size of the car and, after it has adjusted itself, raises the car up to 10 cm high. Then it can park it where appropriate, depending on the software control system.
In the car plant setting, Ray will move a car from production to an interim holding area. There, the cars will wait until the quota for a certain destination is filled up, in which case Ray will then pick up the cars again and move them for shipping. Audi foresees the robots eliminating the need for workers to have long, tiring walks between destinations. Of course these could also speed up and improve the car maker's logistics process. Audi will first be testing two such Ray robots but it is already thinking up of other ways to take advantage of the technology.
SOURCE: Audi