Audi e-tron electric R8 packs monster torque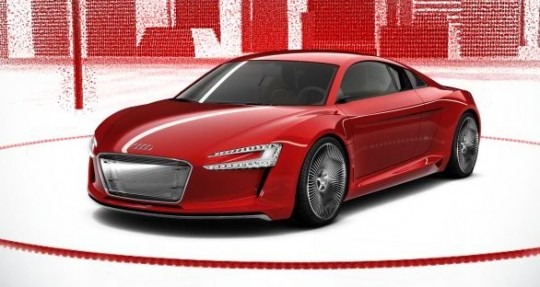 The e-tron may sound like a 60s robot from a bad sci-fi film, but in actual fact it's a hand-built electric concept car from Audi.  Based on their R8 supercar, the Audi e-tron packs not one but four 230kW (313bhp) electric motors, one for each wheel, for a total of 3319lb/ft of torque, 0-60mph times of 4.8s and a (limited) top speed of 125mph, without killing any rhinos, pandas or polar bears in the process (unless they jump out into the road).
While the batteries are normally the drawback of any electric car, never mind one built with performance in mind, Audi have balanced them and the motors so that the car has a 42:58 front/rear weight split.  Kerb weight is 3527lbs thanks to lashings of aluminum and other lightweight materials.
Range would be around 155 miles, Audi claim, should you coax a prototype away from them and out onto the open road.  Unfortunately, right now that's the only way you could get your hands on them; the German company are insisting that the e-tron is merely a test bed and "proof of concept" for their advancing battery technology.