Audi A4 and A4 Avant pulls out all the hi-tech stops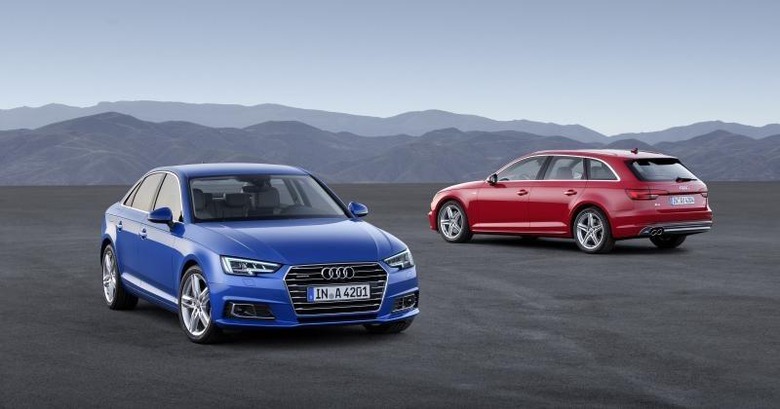 A little over a month ago, Audi revealed its market timetable for its new generation of cars and true enough, the Audi A4 and its spacious sibling, the A4 Avant, are more than ready to hit the road. But more than just an incremental improvement over the A3, the Audi A4 represents the pinnacle of Audi's integration of automotive technology. From virtual cockpits to intelligent driver assistance systems to gesture-based tailgate controls, the Audi A4 and A4 Avant are filled with technology that will make your driving life easier and safer while making your head spin.
To say that the Audi A4 is loaded with technology would be an understatement that it's hard to decide where to start. So let's start with the simplest, a feature exclusive to the A4 Avant. An optional sensor can be installed that will let owners open and close the tailgate with a swiping gesture of the foot. It may sound almost inconsequential, but it demonstrates Audi's attention to the tiniest detail when it comes to employing technology to ease the life of its customers.
The Audi A4 is equipped with the latest in driver assistance system, most of which come as optional packages or individual add-ons. The Audi pre sense city, however, is a standard feature on both Sedan and Avant models, using a windshield-mounted front camera to scan the road ahead and, if necessary, apply the brakes to prevent collision. The Tour assistance package introduces the Adaptive Cruise Control or ACC, which uses two front radar sensors in addition to the camera to set a safe distance between cars. The City assistance package, on the other hand, uses two rear radars in assisting changing of lanes as well as warn about fast approaching vehicles. In the latter case, the system lights up the warning LED in the appropriate rear view mirror's housing to call the driver's attention.
Moving inside, we come across what is perhaps Audi's greatest innovation in terms of in-vehicle infotainment systems. The optional virtual cockpit marries the latest in display, navigation, and automotive technology to deliver a seamless and safe driving experience, whether you are looking for your next turn or carefully observing your lane. The MMI infotainment system, a mainstay of Audi's modern cars, is not to be outdone, especially when equipped with the optional MMI Navigation and MMI Touch features. The controls are particularly interesting. The rocker switches that line up are all touch-sensitive so that when a finger merely touches it, the appropriate function is enlarged and highlighted on the LCD display. The rotary controller, which is the core control element of the MMI, features a touchpad on its top surface for input and multi-finger gestures.
Be sure to check out our First Drive experience with the 2016 Audi TT/TTS and Q7 to get a feel for this innovative Virtual Cockpit.
With all the technology involved, you might think that it detracts from the Audi A4 as a car but that couldn't be farther from the truth. The new A4 and A4 Avant are impressive both inside and out. Although it is wider, bigger, and more spacious than ever before, Audi pulled off a manufacturing miracle and made them also lighter, up to 120 kg lighter depending on the engine. As to those engine, Audi is providing a plethora of choice, 7 in total, ranging from three TFSI and and four TDI engines, all boasting of fuel efficient, eco-friendliness, and quiet purring.
The new Audi A4 and Audi A4 Avant will be available in Germany starting Fall this year. The standard configuration is already quite competitive, starting with xenon headlights, keyless go, Bluetooth connectivity, Audi drive select, and a standard MMI 7-inch display. Keep your eyes peeled on this one as SlashGear will get a sneak preview of the cars in Ingolstadt next month.