AT&T's HTC Inspire 4G leaks with Verizon HTC Thunderbolt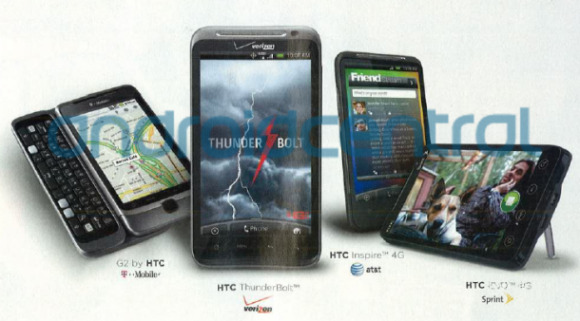 AT&T's first 4G-branded smartphone has leaked, though the carrier is believed to be following in T-Mobile USA's footsteps and labelling its HSPA+ network as 4G. The HTC Inspire 4G was spotted in an advert in Rolling Stone magazine by Android Central, alongside the also unannounced HTC Thunderbolt LTE smartphone for Verizon.
Specifications for the AT&T HTC Inspire 4G are unknown, though judging from the design of the smartphone it looks to be similar to the HTC Desire HD. That would give it a 4.3-inch display, as with the HTC EVO 4G on Sprint's network. It's running Android and clearly has HTC's Sense interface on top.
AT&T may well announce the Inspire 4G at CES 2011 this week, given that print adverts are already running.
[via Android Community]