AT&T's Galaxy Tab Arriving November 21 For $650?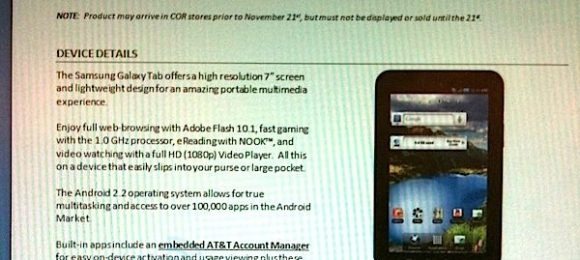 Leaked pricing details for the AT&T Samsung Galaxy Tab have emerged, suggesting that the carrier will actually be asking more for the 7-inch Android tablet than they do for the entry-level 3G-enabled iPad. Engadget's tipster sent in shots of what's believed to be an internal training guide for AT&T staff, which suggest the Galaxy Tab will be $649.99 contract-free.
There will also be two data plan options, offering 250MB for $14.99 per month or 2GB for $25 per month, and a preinstalled AT&T Account Manager app for handling activation and usage on-device. AT&T will also load the eReading with Nook app. The document suggests a launch date of November 21, but at this sort of price – the 16GB iPad WiFi + 3G is $629 – we can't imagine they'll have too many takers.
[via Android Community]