AT&T unveils LTE wireless home phone and Internet plans in eastern U.S.

AT&T has added to its in-home wireless offerings with new Wireless Home Phone and Internet plans that utilize the carrier's LTE and HSPA networks. For now the service is only being offered in the eastern United States, but could eventually be rolled out to subscribers across the nation. Furthermore, it can be tacked on to an existing Mobile Share plan.
The plans are currently being offered to markets in Maryland, Eastern Pennsylvania, southern New Jersey, Virginia, Washington D.C., and select areas along the east coast. The plans start at $20 per month, which allows for unlimited calls in the US. From there, it goes up to 10GB of data for the Internet aspect of the service for $60 monthly, and capping out at 30GB a month at $120. After the maximum data for the user's plan is reached, there's a $10 charge per extra GB.
As for the system itself, it is as simple as you'd imagine a wireless setup to be: there's a modem, which plugs into a power outlet, as well as a phone jack for connecting a wired home phone. The phone then works as a standard telephone, and the modem serves as a wireless modem for using the Internet. Up to 10 devices can be connected to the network.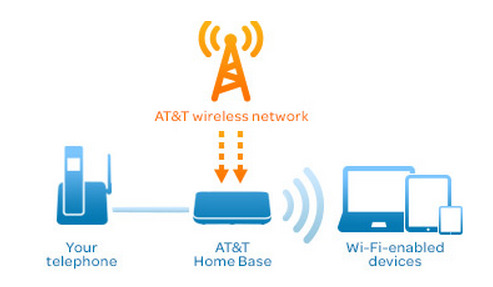 Likewise, because of the portable nature of the system, it can be moved and used in whatever location the user prefers as long as there's the carrier's network available. As mentioned, the service can be used in conjunction with a Mobile Share plan for those who find that more convenient, with the price coming in at $30 a month for voice service and up to 10GB of data.
AT&T isn't the first to offer such a service, and Verizon has one that is very similar called HomeFusion Broadband. As Fierce Wireless noted, the pricing for AT&T's new service is identical to the pricing of Verizon's HomeFusion, which lacks the voice functionality. For those who want a home phone and Internet that's easy to take anywhere, this is certainly an option, but those who use a lot of data will find the 30GB data cap very limiting.
SOURCE: Fierce Wireless