AT&T TerreStar GENUS satellite phone arrives for $799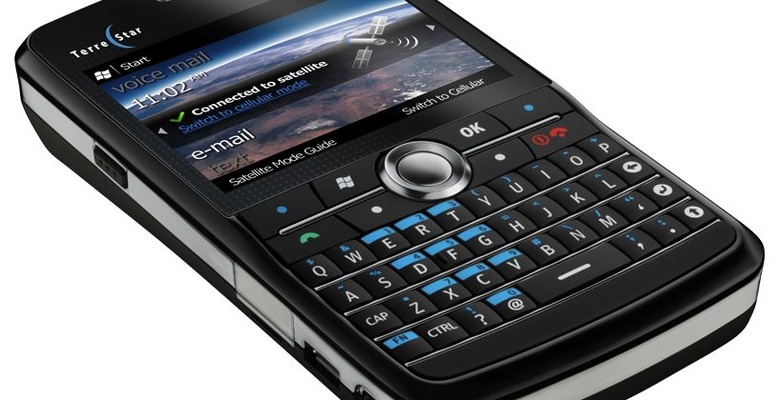 TerreStar's GENUS hybrid satellite/cellular phone has finally arrived on AT&T, though you'll need deep pockets if you want to enjoy seriously remote coverage.  Unlike previous satellite phones, the GENUS is intended to be used as an everyday phone, only flipping into satellite mode – for voice, data and messaging – when no regular coverage is available.
To that end the Windows Mobile 6.5.3 smartphone has a full QWERTY keyboard and a chassis that's reasonable in line, with respect to size, to cellular-only phones.  However the price is significantly higher: $799, and that's before you get to the satellite call rates.
AT&T's satellite tariff is a further $25 per month on top of your regular call plan, with voice calls charged at $0.65 per minute, data at $5 per megabyte, and messages at $0.40 apiece.  You don't even get worldwide coverage, either: just satellite calls in the US, Puerto Rico, US Virgin Islands and in territorial waters.
Press Release:
TerreStar GENUS™ Dual-Mode Cellular/Satellite Smartphone Now Available From AT&T

AT&T's Satellite Augmented Mobile Service Provides Satellite Wireless Voice and Data Communications for Business and Government Customers

DALLAS, Sept. 21 /PRNewswire/ — For many people it's crucial to stay connected wherever life takes them. Thanks to a new offer from AT&T*, it's now easier and more convenient than ever before to have mobile coverage in remote locations or when the cellular network is unavailable.

AT&T's new Satellite Augmented Mobile Service with the TerreStar™ GENUS™ dual-mode cellular/satellite smartphone is now available for enterprise, government and small business customers. Intended to be used primarily as an everyday mobile device, the TerreStar GENUS smartphone is an innovative dual-mode device with cellular wireless capability as the primary default mode and satellite access capability as a secondary option for voice, data and messaging.

The access to the TerreStar™ satellite network enables wireless communications coverage in remote areas for government, energy, utility, transportation and maritime users, as well as backup satellite communications capabilities for public safety agencies, first responders and disaster recovery groups.

With just one phone number and one smartphone device, users with a line of sight to the satellite will have access to expanded voice and data roaming coverage in the United States, Puerto Rico, U.S. Virgin Islands and in territorial waters. The TerreStar GENUS runs on the Windows Mobile 6.5 operating system to provide rich features and functionality, including a touch screen, Wi-Fi, Bluetooth®, camera and GPS.

According to an AT&T Business Continuity Study(1) conducted earlier this year, businesses are stepping up their technology investment and efforts in disaster planning and business continuity programs despite the economy; and mobile devices are increasingly part of business continuity plans.

"We understand the importance to stay connected in remote locations and especially in emergency situations, and today's announcement is the latest example of AT&T's commitment to delivering the highest levels of service, quality and reliability for customers," said Michael Antieri, President, Advanced Enterprise Mobility Solutions, AT&T Business Solutions. "With this expansion of AT&T's innovative mobility portfolio, AT&T is helping businesses and government agencies stay connected with a single device, single support contact and single bill."

"With advancements in satellite technology, satellite-based communications is poised to be the next standard in everyday mobile devices," said Jeffrey Epstein, President and Chief Executive Officer of TerreStar. "We are pleased to work with AT&T to bring powerful integrated satellite-cellular solutions to market, providing customers with critical communication capabilities and a great mobile experience."

Availability

The AT&T Satellite Augmented Mobile Service and the TerreStar GENUS is available today to enterprise, government and small business Corporate Responsibility Users. The service requires standard AT&T cellular voice and smartphone data rate plans, as well as a monthly satellite subscription feature. Usage of the satellite network for voice, data and messaging is not included in the monthly feature charge and is billed as per-minute, per-message or per-megabyte roaming charges on a customer's AT&T Mobility service invoice.

Enterprise, government and small business users should contact their AT&T sales representative for information on availability and ordering.

(1) 2010 AT&T Business Continuity Study

*AT&T products and services are provided or offered by subsidiaries and affiliates of AT&T Inc. under the AT&T brand and not by AT&T Inc.