AT&T Sony Ericsson Vivaz gets September launch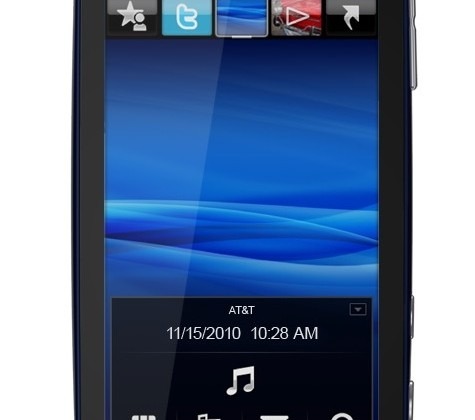 You'll have to forgive us, AT&T, but we're finding it more than a little difficult to get excited over your latest handset announcement.  The Sony Ericsson Vivaz was first announced all the way back in January this year, had its moment in the spotlight in Europe a couple of months later, and even spawned a sequel, the Vivaz Pro.  However, what AT&T obviously felt was necessary was a US launch several months after, and so from early September you'll be able to pick up the 3.2-inch cellphone from them.
That gets you a copy of Symbian S60, an 8.1-megapixel camera – capable of 720p HD video recording – WiFi and Bluetooth, along with AT&T 3G of course.  It's worth remembering that the touchscreen uses a resistive panel, though, and we can't say we were especially enamoured with the build quality of the Vivaz's plastic casing.
The Vivaz will be available on AT&T from September 5th, priced at $79.99 with a new, two-year agreement and after a $50 mail-in rebate.  However the carrier is also classing the Vivaz as a smartphone, so you'll need a smartphone data plan too; frankly, for the money we'd be looking elsewhere.
Press Release:
Channel Your Inner Filmmaker with the New Sony Ericsson Vivaz™ Now Available Exclusively at AT&T

AT&T* and Sony Ericsson today announced the Sony Ericsson Vivaz™

Capture HD video1 or high resolution photos with 8.1 megapixel camera

Available in the vibrant Galaxy Blue or for a limited time at www.wireless.att.com in the attractive Venus Ruby.

Vivaz comes complete with a 3.2" nHD 16 million color touchscreen

Exclusive for AT&T customers for $79.99, with a two-year service agreement and after a $50.00 mail in rebate, on September 5 in AT&T company-owned retail stores and online at www.wireless.att.com.

Customer Benefits

With Vivaz™, AT&T customers can capture spontaneous moments and memories instantly with two quick camera keys – video and photo, which lock focus on the action as soon as it starts. Pre-loaded links to YouTube™ and Picasa™ Web Albums make it easy to upload HD videos and high resolution photos for sharing with friends and even the world.

In addition to its superb imaging features, Vivaz is loaded with applications to keep customers connected to their world. Topping that list is AT&T Social Net, allowing customers to share exciting moments with friends– on Facebook®, MySpace™ and Twitter®– all through one simple application. Other highlights include Wi-Fi®, aGPS with AT&T Navigator®, Stereo Bluetooth® wireless technology, and Vlingo® voice recognition interface for searching the Web, composing notes, and more.

Key Features

AT&T Wi-Fi Hotspots – With Vivaz™ and a qualifying AT&T data plan, you have unlimited access to AT&T's entire nationwide Wi-Fi network at no additional cost. Perfect for uploading your latest HD video masterpiece while taking a load off your feet.

3.2" nHD screen – Customers can view photos and videos in vivid nHD detail.

Multitask Effortlessly – Have multiple applications running simultaneously and easily switch between them, including the ability to multitask while uploading HD video via Wi-Fi.

Quotes

"Working with Sony Ericsson to deliver a best-in-class video and camera phone on the nation's fastest mobile broadband network gives our customers even more opportunities to express themselves through their favorite social networks," said Michael Woodward, vice president, Mobile Phone Portfolio, AT&T Mobility and Consumer Markets. "With Vivaz capturing photos and video in stunning HD and sharing it on YouTube™ or Picasa™ Web Albums is quick and easy."

"Shooting and sharing brilliant HD content is what creativity-minded consumers want from their mobile devices right now and we are delivering it with Vivaz™," said Paul Hamnett, senior vice president, Sony Ericsson North America. "With a host of dynamic multimedia and social networking features, and offered at a very attractive price, we are putting the power of spontaneous HD in the hands of everyone."

For the complete array of AT&T offerings, visit www.att.com

*AT&T products and services are provided or offered by subsidiaries and affiliates of AT&T Inc. under the AT&T brand and not by AT&T Inc.

Price of $79.99 requires a 2-year service agreement and smartphone data plan. New smartphone customers may choose from two AT&T monthly data plan options, $15 for 200 MB of wireless data or $25 for 2 GB.

1720p video recording; display rendering is nHD (640x360 pixel ratio)

Mobile Broadband coverage not available in all areas.

Limited-time offer. Other conditions & restrictions apply. See contract & rate plan brochure for details. Subscriber must live & have a mailing addr. within AT&T's owned wireless network coverage area. Up to $36 activ. fee applies. Equipment price & avail may vary by mrk & may not be available from independent retailers.Early Termination Fee: None if cancelled in the first 30 days, but up to $35 restocking fee may apply to equipment returns; thereafter up to $325. Some agents impose add'l fees. Unlimited voice services: Unltd voice svcs are provided primarily for live dialog between two individuals. No additional discounts are available with unlimited plan. Smartphone Data Plan Requirement: Smartphones require a DataPlus (200MB) or DataPro (2GB) plan. If you exceed your initial data allowance, you will automatically be charged an additional $10 for each additional 1GB provided on DataPro or an additional $15 for each additional 200MB provided on DataPlus. All data allowances, including overages, must be used in the billing period in which the allowance is provided or they will be forfeited. An Enterprise Data Plan is required for corporate email, company intranet sites and business applications. For more details on Data Plans, go to att.com/dataplans. Offnet Usage: If your mins of use (including unltd svcs) on other carrier's networks ("offnet usage") during any two consecutive months or your data use during any month exceeds your offnet usage allowance, AT&T may at its option terminate your svc, deny your contd use of other carriers' coverage, or change your plan to one imposing usage charges for offnet usage. Your offnet usage allowance is equal to the lesser of 750 mins or 40% of the Anytime mins incl'd with your plan (data offnet usage allowance is the lesser of 24 MB or 20% of the KB incl'd with your plan). Sales tax calculated based on price of unactivated equipment. AT&T Wi-Fi Hot Spots- Based on non-municipal company owned and operated hotspots. A Wi-Fi enabled device required. Other restrictions apply. See www.attwifi.com for additional services, restrictions and locations.