AT&T Rewards iPhone Customers With Bonus 1000 Rollover Minutes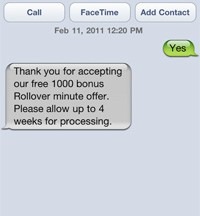 AT&T is going that extra mile to show its iPhone customers how much they appreciate them for not jumping ship to Verizon. Current iPhone users have been receiving text messages from the carrier thanking them for their loyalty with 1,000 free rollover minutes to their account.
All the customer has to do to apply the gifted minutes is reply with the word "yes" and it will be added within the next four weeks. If you did not receive a text message, you can text "yes" to 11113020 and you will automatically be sent a reply telling you that the free rollover minutes have been gifted.
This gift of rollover minutes, the free microcells, the trade-in service, and the Mobile To Any Mobile service we reported earlier show the extent AT&T will go to keep their iPhone customers. Perhaps a few more strategic moves ahead that will benefit consumers? Have you guys tried any out? Let us know.
[Via 9 to 5 Mac]