AT&T QuickFire SlashGear First-Impressions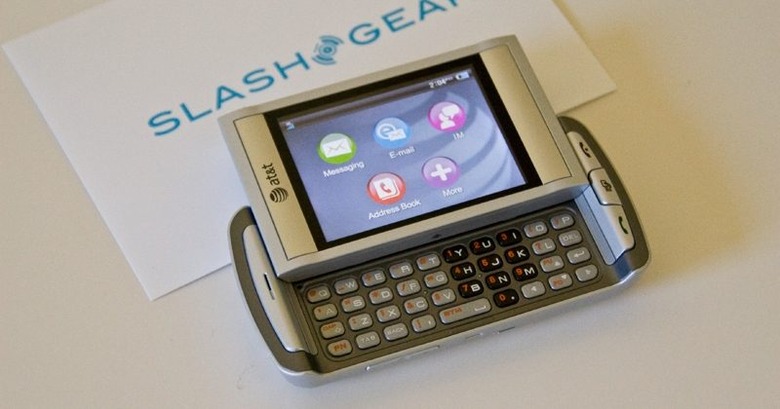 The AT&T QuickFire fell into our hands briefly, and while we didn't have time to do the usual in-depth SlashGear review, we thought you might be interested in our first-impressions of this Sidekick-styled handset.  Formerly known as the UTStarcom Knick, the QuickFire is a quadband GSM, triband UMTS slider with a 2.8-inch QVGA touchscreen display; slide that up, and there's a full QWERTY keyboard.More AT&T QuickFire photos after the cut
Other specifications include Bluetooth with A2DP wireless stereo support, a 1.3-megapixel camera capable of stills and video, and integrated AGPS.  The messaging client supports POP3 and webmail accounts, as well as the usual SMS and MMS, plus there's a separate IM app.  The QuickFire has around 29MB of internal storage, with a microSD slot to expand that; it measures a compact 4.3 x 2.2 x 0.7 inches and weighs 4.8oz, making it smaller (in all but thickness) and lighter than the Sidekick 2008.
AT&T Navigator is preloaded, and the QuickFire will work with the carrier's streaming video services.  We found the keyboard to be reasonable to type on, as the bulk of the shaved width over the Sidekick is lost from the end panels, not QWERTY space.  However the lined-up keys make for the slower learning curve when you first pick up the QuickFire and start pecking.
The resistive touchscreen seems responsive, with large – if a little bland – icons; it's larger than that of the Sidekick, by 0.2-inches, but lower resolution at 320 x 240 versus 400 x 240.  Still, it was clear enough to keep IM conversations going, and the fact that you can touch it to navigate (rather than use a D-pad or trackball) keeps things moving quickly.  Of course, the QuickFire lacks the Sidekick's server-based support system (which stores emails, compresses data for the Sidekick's browser, maintains IM login even when the phone itself is out of coverage, and generally keeps an ongoing backup) but the faster 3G speeds of the AT&T handset make things like on-the-fly browser reformatting less of an issue.  The QuickFire uses the full-HTML Polaris Browser v.6, which supports finger dragging navigation and zoom control; it's not as slick as some of the smartphone browsers we've seen, but it does a reasonable job.
Sightings of the AT&T QuickFire have been few and far between; we've had reports of one small-town retailer getting them in stock, while other AT&T stores are still waiting.  It's not yet shown up on AT&T's site, either.  We'd recommend calling your local store before making the trip out; the official release date is November 10th, priced at $149.99 with a $50 mail-in rebate and new, two-year agreement.