AT&T Officially Displays Data Plans for iPad WiFi + 3G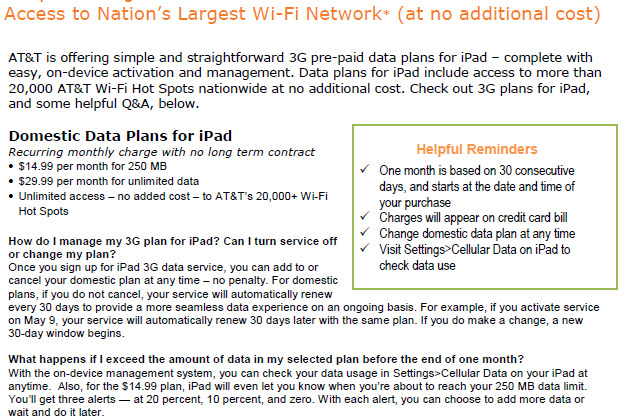 By now, the data plans for the upcoming iPad WiFi + 3G model are pretty much common knowledge. But, we know how people can be without some kind of official verbiage, so AT&T has finally come forward and released their side of the story. Oh, it's the same story that Apple was telling, so don't get worried. It's still every bit as good as you thought it would be, even there are some little extras in store.
As we said, there's nothing all that new here. You're still going to get two options: $14.99 for 250MB of data per month, or $29.99 for truly unlimited data. No, there isn't a 5GB cap, so it's not a "relative unlimited data plan." It's the real deal, so feel free to actually use it. On top of that, AT&T wants you to go ahead and utilize their exhaustive list of wireless hotspots all around the country. Pretty good deal, considering this isn't a long-term contract, and you're not selling your soul to anyone to access any of this.
That's right, it's all done from the device, at your leisure. For example, if you decide to go the whole 250MB route, then you can activate the plan right from your tablet, and it switches on right then. Your 30 days are a consecutive 30 days, meaning from the moment you start, it's 30 days later that it will wrap up. And, if you're using quite a bit of data, the system will alert you when you've reached 20% of your total data allowed, and then again at 10 percent, and then ultimately you'll be warned when you've run out of data to use. In each of those messages, you'll be given the opportunity to re-up your plan to add an additional 250MB to your plan. Both the unlimited and limited plan will renew themselves automatically every 30 days, and you can cancel them whenever you want. You can also manage your data consumption visually from your iPad, just to keep track of it. So, come this Friday, you're buying one, right?
[via AT&T]