AT&T offering iPhone 5 refurbished starting at $99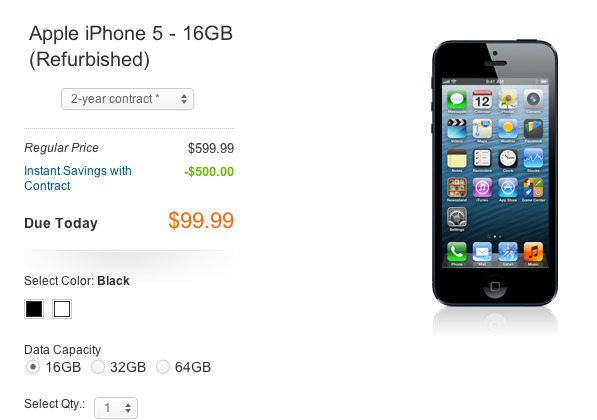 Two months after making its debut, refurbished models of the iPhone 5 are now becoming available from AT&T. For as low as $99, you can get Apple's latest smartphone after signing a two-year contract — this is half off of the normal price. Granted, it's a refurbished model, but if you know anything about Apple's refurbished items, is that they usually do a bang-up job to restore their products to like-new condition.
$99 will get you a refurbished 16GB iPhone 5 in either black or white. A 32GB model will cost you $199, while the 64GB version will be priced at $299. There's just one caveat, though. The deal is only good on AT&T's website, so you can't go into at AT&T store in order snatch up the deal. This shouldn't be too big of a deal for most users, but I know some prefer the in-person approach to getting a new phone.
Plus, we're not sure if this is a Black Friday deal or not, so it may disappear after today. However, AT&T's website says nothing of the such, so it may be a permanent thing. In any case, it may be a good idea to pounce on this deal anyway if you've been waiting to snatch an iPhone 5 at a reduced price.
No word on whether or not other carriers will offer the same kind of deal for refurbished iPhone 5 units. It seems it's only AT&T at the moment, but Verizon may join in on the fun at some point as well. Either way, this gives those who were waiting on used models the first chance to grab the latest and greatest at half the cost — not a bad deal at all.
[via Cult of Mac]