AT&T Navigator for iPhone released: functional but expensive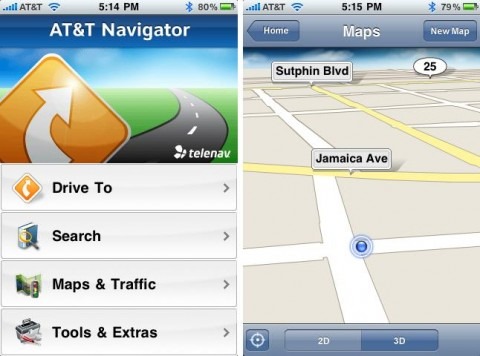 AT&T have released the iPhone version of their Navigator PND program through the App Store [iTunes link], offering turn-by-turn directions on the iPhone 3G and iPhone 3GS.  The Telenav-developed app supports both verbal and on-screen guidance, speech recognition, traffic alerts and full 3D mapping.
Those 3D maps are automatically updated in the background, too, as are POIs and street names.  There's also access to Yellow Pages, for business listings, together with online trip planning; users can set up their journey via their PC or Mac, and then have the route wirelessly delivered to their iPhone.
It's all sounding great, aside from the price.  AT&T Navigator for iPhone is priced at $9.99 per month, which works out at around $240 if you subscribe for the lifetime of your AT&T contract.  With standalone GPS units going for bargain-basement prices right now, we're not sure that's cost-effective. 
Press Release:
AT&T Brings AT&T Navigator Application to Apple App Store

iPhone Customers Benefit From Turn-by-Turn, Voice-Guided GPS Navigation with AT&T Navigator, Powered by TeleNav

DALLAS, June 23 /PRNewswire-FirstCall/ — You have arrived at your destination. For the first time, millions of iPhone customers can now experience one of the most popular turn-by-turn GPS navigation applications. AT&T* (NYSE:T) today announced the availability of its award-winning location based services app – AT&T Navigator – on iPhone 3G and iPhone 3GS. Using the latest iPhone OS 3.0 software the app brings full audible and visual turn-by-turn navigation service over the nation's fastest 3G network.

Loaded with enhanced functionality and capabilities, AT&T Navigator provides a rich lineup of user-friendly features, including: map updates, speech recognition, ETA updates, more than 10 million business listings, real-time traffic alerts, one-touch rerouting, daily gas prices and more.

"AT&T Navigator has been one of our most popular and best-performing apps since we launched it last year," said Mark Collins, vice president of voice and data products for AT&T Mobility and Consumer Markets. "With the new iPhone OS 3.0 software, we're expanding the advantages of true turn-by-turn navigation – both voice and on-screen directions – to millions more customers. We're bringing greater convenience to drivers and travelers nationwide, including providing regular, automatic updates to map information at no charge so customers have the latest at their fingertips."

Perfect for Parent and Professional

Gone are the days when business travelers are dependent on built-in car GPS devices. Same goes for parents managing caravans and car pools to overnight soccer tournaments. Built to accommodate road warriors of all kinds, AT&T Navigator maximizes the customer experience to provide:

Automatic Content Updates: No manual updates required. The latest map and navigating details are automatically available to subscribers at no extra cost.

Voice and On-Screen Turn-By-Turn Directions: Real-time voice and visual guidance, including street names, automatic re-routes, ETA and total mileage updates. Drivers can also choose among multiple route options, including 'traffic optimized'; 'fastest'; 'prefer streets';'prefer highways' and 'pedestrian mode' to ensure the most customized navigation experience.

Speech Recognition: Touch and talk capability for instant turn-by-turn directions to destination.

Traffic Alerts: Real-time route monitoring and proactive searches every five minutes for traffic congestion or incident. Voice and on-screen alerts, plus faster route options provided.

3D Maps: Full-color 3D moving map brings navigation to life. Maps provide details on current location, plus streets and interstates within driving distance.

Business Listings: One-touch access to more than 10 million business listings from YELLOWPAGES.COM. Plus, access to business ratings, phone numbers and one-touch dialing.

In-Route Customization: Users have the advantage of finding convenient rest stops for gas, food and other needs along their current route – saving both time and mileage.

Online Trip Planning: Preplan trips, save addresses and manage travel accounts online at www.navpreplan.com. Save locations and send directions straight to iPhone.

Award Winning

AT&T Navigator was recently recognized by global growth and consulting company Frost & Sullivan as the 2009 Consumer Location-Based Service Navigation Application of the Year because of its aggregation of a premier list features into one intuitive application.

The app is available for $9.99 a month from Apple's App Store on iPhone and iPod touch or at www.itunes.com/appstore/.

As with AT&T Navigator subscriptions on other devices, the app will be billed directly by AT&T and included on the customer's monthly statement. AT&T Navigator works within the United States. Customers can download the app through Apple's App Store under the "GPS and Navigation" category. AT&T Navigator on iPhone requires iPhone OS 3.0 software.

Additional information, including other devices programmed for AT&T Navigator, is available at www.att.com/navigator.

*AT&T products and services are provided or offered by subsidiaries and affiliates of AT&T Inc. under the AT&T brand and not by AT&T Inc. 
[via iPhone Buzz]