AT&T Moto X lands August 23 with Skip in-box initially

AT&T will open up the Moto X Moto Maker customization tool from August 23, with all early users getting a free Motorola Skip wireless authentication dongle, the carrier has confirmed. Some of those who pre-registered on AT&T's Moto X page will actually get to log into Moto Maker and process their order a few days later, from August 19, the carrier says, intending to select a few random users and offer them beta access.
Exactly how long a Skip will be included with Moto Maker orders is unclear, with AT&T only saying that the promotion will run for a "limited time." The clip-on accessory effectively bypasses the PIN lock on the Moto X, allowing the voice control system to work unhindered; that was one of our biggest issues when we reviewed the Moto X.
The Motorola Skip also includes a set of NFC "dots" which can be stuck to car dashboards and desks to unlock the handset whenever it's nearby. That works with the Moto X's context sensitivity, too: for instance, when the phone recognizes that it's moving at speed and that the user is probably driving, it will automatically switch incoming calls into hands-free mode, and offer to read out new text messages.
Since in AT&T stores there'll only be pre-made black and white Moto X handsets, the carrier has put together a demo stand showing all of the color options. They'll be placed in select stores; customers will be able to check out the finishes and then pay for their new phone, getting a code to punch into the Moto Maker site where they'll actually design their handset.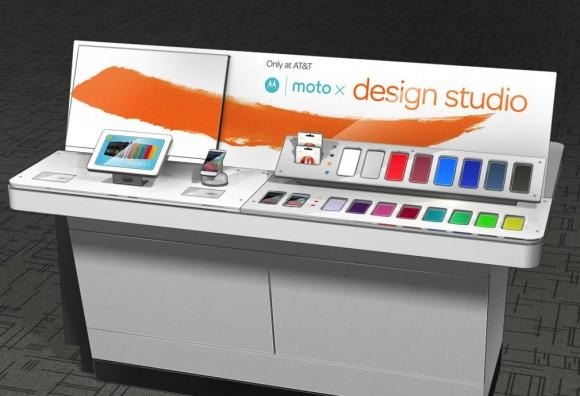 The Moto X will be offered for $199.99 with a new, two-year agreement in 16GB form, while the 32GB version will be $249.99. Alternatively, AT&T will offer it on its payment plan, with no upfront charge but an extra $27 or $32 per month, for the 16GB and 32GB versions respectively, and the option to upgrade after a year.
Moto Maker walkthrough: