Wireless carriers hiking plan pricing is nothing new, but we don't often see them attempting to frame those price hikes as if they're a gift to subscribers. That's exactly what AT&T is doing though, announcing today that it's giving customers on its Mobile Share plans more data each month, but it's also raising prices in the process. Customers, unsurprisingly, have no say in whether or not they get the extra data and therefore the price hike.
The way AT&T frames these price hikes is particularly ridiculous. "Enjoy more data," AT&T said on its support site. "Starting with your October 2019 bill, you'll get an additional 15GB of data on your Mobile Share plan. This bonus data comes with a $10 price increase."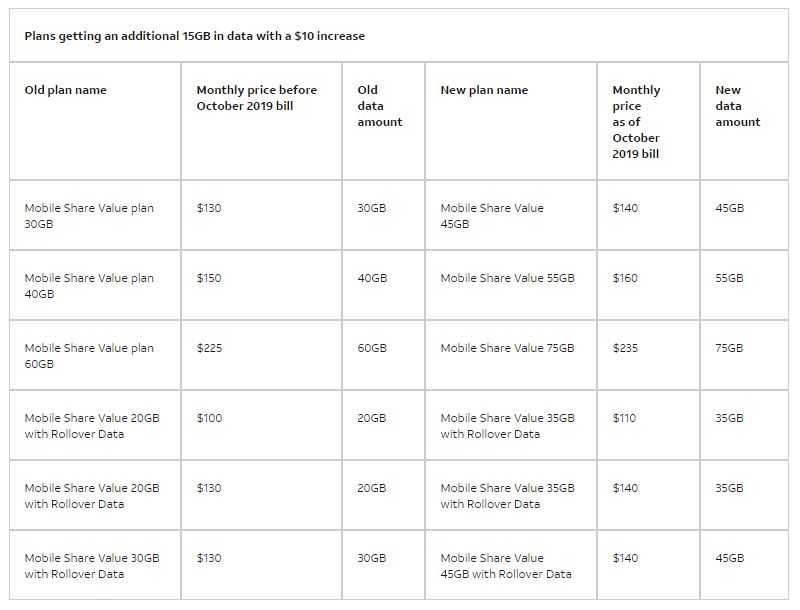 We're not sure what definition of the word "bonus" AT&T is working with here, but forcing customers to accept that extra data and then charging them for it doesn't really fit the definition we're familiar with. In a statement to The Verge, AT&T confirmed that users will either have to live with this price hike or switch plans, leaving them no option to keep their Mobile Share pricing and data the way it currently is.
"We are communicating with some customers regarding changes to their mobile plans," the company said. "Customers have the choice to change their plan at any time and can always contact us with questions or to understand their options."
You can see the new prices and data allowances for all of AT&T's Mobile Share plans in the table above. Considering that these plans are already so expensive, we're guessing that most subscribers won't be too fond of AT&T's price hike even with the extra data. AT&T's use of the word "bonus" suggests there's something worth celebrating here though, so congratulations we guess!