AT&T LG eXpo with detachable pico-projector coming Dec 7th [Updated]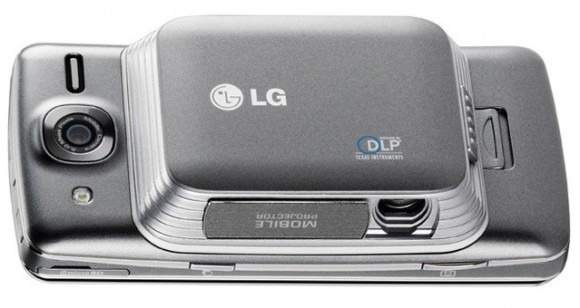 There's no sign of an official press release yet – nor a product page – but AT&T are tipped to have unveiled their latest LG smartphone, the LG eXpo.  A touchscreen Windows Mobile 6.5 handset, the eXpo's secret magic is a detachable Texas Instruments DLP projector, which can be used to project videos, images and webpages.Update: The LG eXpo product page is now live – thanks Alejandro!Update 2: Pricing is confirmed at $199 for the LG eXpo itself (assuming a new, two-year contract and a mail-in rebate) and $179 for the pico-projector attachment.
There's also a 5-megapixel camera and a microSD card slot, together with a slide-out QWERTY keyboard.  Where you'd usually expect to see a D-pad or trackball, LG have squeezed in what looks to be a fingerprint scanner which we're guessing both controls horizontal scrolling as well as biometric security.
Full details about the LG eXpo are still unknown, as is the pricing for the Windows Phone.  However it will apparently arrive on December 7th in the US, which means LG have about a week to push out full specifications.
Update: According to the product page the eXpo (aka the LG GW820) has WiFi, Bluetooth 2.1+EDR, a 5-megapixel autofocus camera with LED flash, triband UMTS (850/1900/2100) and a 1,500mAh battery.  The data sheet also indicates a 3.2-inch 800 x 480 touchscreen, 1GHz Qualcomm processor and confirms that in fact the fingerprint scanner manages not only horizontal but 5-way scrolling.  The projector, meanwhile, can create images up to 40-inches; no word on resolution as yet.
[via MobileBurn]