AT&T leak reveals the end of two-year contracts [Update: confirmed]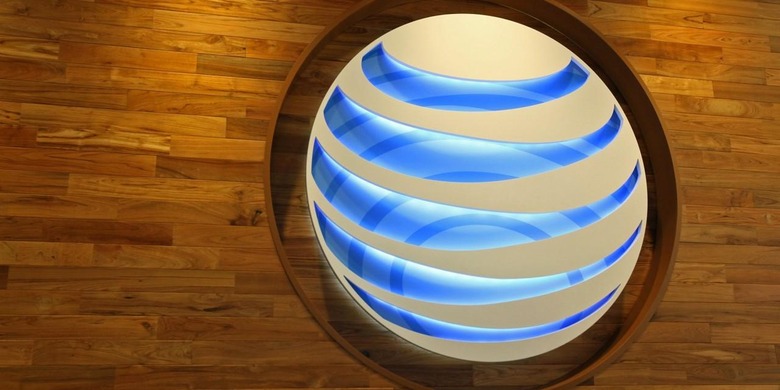 According to newly leaked documents, AT&T is doing away with two-year contracts early next month, moving subscribers over to its' AT&T Next installment plan or requiring them to pay the price of the phone upfront. The change will take effect across the board, according to the documents; employees will lose the two-year contract option, too, as well as current two-year contract customers. AT&T has not confirmed the leak, however.
The information comes from leaked documents acquired by Engadget. According to the images, AT&T will be doing away with two-year contracts starting January 8, 2016, a little less than two weeks from now. The full details aren't known at this point; according to one of the screenshots, the company will provide more information to its workers "during the week of January 4, 2016."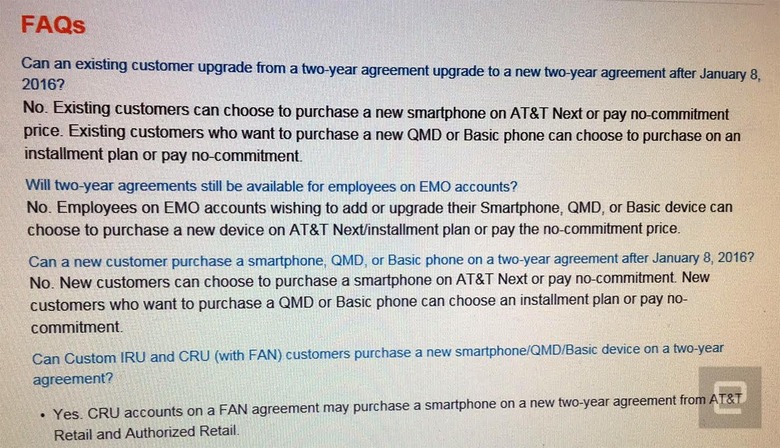 AT&T bills this as a "simplification" of its buying options, giving subscribers two options: AT&T Next, which charges a set monthly fee for a device, and no-commitment, which is paying the full retail price upfront. These options will be available to both current and new subscribers and standard Individual Responsibility Users.
In addition, the carrier plans to offer installment plans for "Basic" and "Quick Messaging" devices. AT&T isn't the only company with installment device plans, and it isn't the only one moving away from contract. Verizon, for example, has a similar program, and is likewise nudging subscribers away from the two-year contracts by offering a bunch of perks for signing up on an installment plan.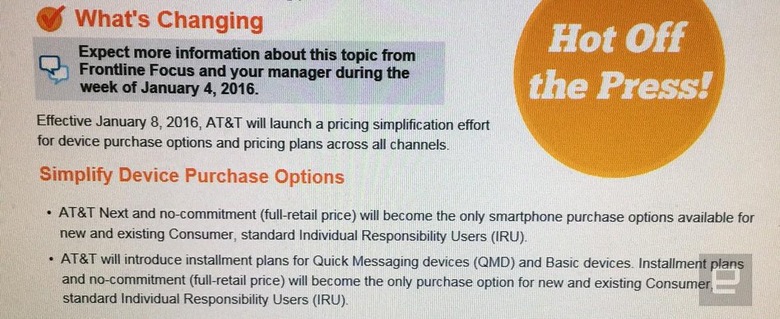 Update: In a statement, an AT&T spokesperson confirmed the news:
"With $0 down for well-qualified customers, the ability to upgrade early and down payment options available with even lower monthly installments, our customers are overwhelmingly choosing AT&T Next. Starting January 8, AT&T Next will be the primary way to get a new smartphone at AT&T. This does not apply to business customers under a qualified wireless service agreement."
SOURCE: Engadget