AT&T juggles execs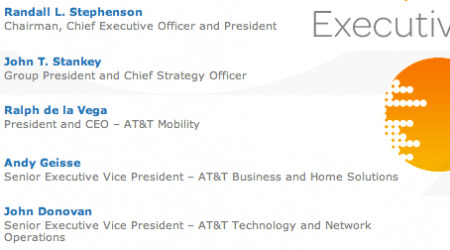 Today the folks at AT&T are doing a little flipping around of heads with several faces now reporting directly to the AT&T Chairman and CEO Randall Stephenson including John Stankey, Ralph de la Vega, Andy Geisse, and John Donovan. Each of these professionals will be getting a brand new world, with Stephenson expressing his enthusiasm for continued delivery for customers, owners, and communities through executives "focused on the biggest growth opportunities."
First, John Stankey will be now be in the role of the newly announced Group President & Cheif Strategy Officer. This role will have him responsible for developing the roadmap for the future, addressing corporate development, working with long-term wireless-capacity needs, and finding the best paths for low-growth and non-strategic assets. Andy Geisse is now the Senior Executive Vice President of AT&T Business and Home Solutions. Geisse will be responsible for serving the business segment, this including small businesses all the way up to global enterprise customers, and he will be leading the Home Solutions team that'll be working with local wireline operations in 22 states as well as U-verse.
Ralph de la Vega is now the President and CEO of AT&T Mobility. da la Vega will be continuing to head up the biggest AT&T growth engine here with mobile, expanding and focusing then on the company's "industry leading smartphone position." John Donovan will now be the Senior Executive Vice President of AT&T Technology and Network operations, with responsibilities to the tune of the groups technology and network operations including AT&T's "nation's fastest mobile broadband network."