AT&T getting Galaxy S with Samsung Captivate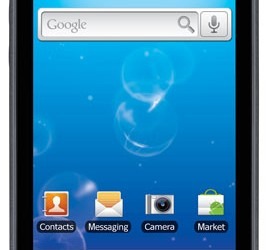 Samsung's Galaxy S may have just dropped in on us earlier on today, but in a few months time it'll be making quite a splash on AT&T's network in the US.  The carrier has announced that it will be selling a rebadged, slightly redesigned version of the Galaxy S, the AT&T Samsung Captivate, "in the coming months"; still present are the Galaxy S' 4-inch Super AMOLED capacitive touchscreen, 1GHz Hummingbird processor, 16GB of internal storage and Android 2.1 OS.
There's also WiFi b/g/n, Bluetooth 3.0 and HSPA for up to 7.2Mbps downloads, AT&T's network depending.  Samsung will preload their Social Hub, which pulls in Twitter, Facebook and MySpace messages, while AT&T will slap on their Navigator app and AT&T Family Map.  There'll also be the regular Google Android apps, including access to the Android Market, a multitouch-compatible browser and DLNA media streaming support.
The Captivate's 5-megapixel camera will be able to record 720p HD video, while there's also a 3.5mm headphone jack, gyroscope and accelerometer.  AT&T can't tell us how much the Samsung Captivate will cost, nor when exactly it might arrive on shelves, but we're already drooling.
[via Android Community]
Samsung Galaxy S hands-on:
[vms 1b7d5eabf33396c2683a]
Press Release:
AT&T AND SAMSUNG MOBILE ANNOUNCE UPCOMING AVAILABILITY OF THE SAMSUNG CAPTIVATE™, A GALAXY S™ SMARTPHONE

New breed of smartphone powered by the Android™ 2.1 platform features 4-inch Super AMOLED touch screen, 1GHz application processor and innovative entertainment and social networking features

DALLAS, June 17, 2010 — AT&T* and Samsung Telecommunications America (Samsung Mobile), the No. 1 mobile phone provider in the U.S.**, today announced the upcoming availability of the Samsung Captivate™, a Galaxy S™ smartphone. The Android™ 2.1-powered Samsung Captivate will bring users a fully integrated entertainment, messaging and social networking experience packaged in an alluring, streamlined design surrounding a stunning 4-inch display.

The Captivate's powerful set of Web-based features is maximized with the addition of AT&T's High Speed Packet Access (HSPA) 7.2 Mbps technology, which provides a considerable speed boost to the nation's fastest 3G network when paired with expanded backhaul. Speed plus AT&T's dedicated focus to mobilize everything – including video content, social networking, music and messaging – is reflected in Captivate's strong feature set.

The Captivate represents a new breed of smartphones powered by the open and innovative Android platform, with full support of Google Mobile Services including Android Market™, Google Search™, Google Maps™, Gmail™, YouTube™, Google Talk™ and more. Users can also access the Android Market™ and customize their experience with more than 60,000 exciting and useful applications. The Captivate also features Samsung's Super AMOLED display screen technology, a 1 GHz Samsung Hummingbird Application Processor and Samsung Social Hub, a feature that integrates the user's social networking services, messages, personal and business email, calendars and contacts.

"Add up Captivate's amazing screen, huge amounts of onboard storage, a super-fast processor, all fueled by the nation's fastest 3G network and a nationwide Wi-Fi network and you get a smartphone we know our customers will crave," said Jeff Bradley, senior vice president, Devices, AT&T Mobility and Consumer Markets.

"With the launch of the Captivate, AT&T customers will experience a groundbreaking handset with world class features that are unique to Samsung's Galaxy S class of devices, including Samsung's Super AMOLED screen technology and 1GHz Hummingbird Application Processor," said Omar Khan, chief strategy officer for Samsung Mobile. "The Captivate represents a new breed of smartphone that will truly change and enrich the way consumers interact with their device on an everyday basis."

Leading Hardware Features

The Captivate provides a premium viewing experience on its large, brilliant 4-inch display powered by Samsung's Super AMOLED touch screen technology. Super AMOLED technology yields thinner displays, delivering one of the thinnest, most responsive full-featured smartphones in the industry. Samsung's innovative display technology makes watching movies, viewing videos and playing games come to life like never before, even in bright light and outdoor environments.

In addition, the Samsung Captivate is designed with a six-axis sensor that combines the smartphone's accelerometer and gyroscope to provide a smooth, fluid gaming experience when the user is tilting the device up or down or panning the phone to the left or right. The Captivate's user interface also supports a series of advanced touch screen gestures capabilities including multi-touch pinch, long tap and zoom and vertical and horizontal swiping. This series of versatile gestures provide easier and quicker access to many applications including location-based services, Web browsing and digital photos.

Powering the Captivate is a 1 GHz Samsung Hummingbird Application Processor, which produces amazing 3-D graphics, faster upload and download times and full richness of HD-like multimedia content. The Captivate is also outfitted with 3D sound capabilities, giving the user surround-sound stereo quality, when listening on hard-wired headphones.

Features for All Users

The Captivate keeps users connected with Samsung's Social Hub, which is built around Messaging and Contacts, both of which initiate the sending and receiving of information, whether it is e-mail, instant messaging, social network updates or SMS messages. Additionally, calendar information from portal calendars, such as Google Calendar™, and social networking services are displayed together in one calendar with two-way synchronization. The familiar text messaging experience is enhanced with group messaging and "reply all" functionality for up to 10 contacts, a threaded conversations format, a consolidated inbox, and enhanced multi-media display.

In addition, AT&T customers who choose Captivate can take advantage of AT&T Address Book. A Web-based service, AT&T Address Book syncs contacts to an online address book so customers can access and manage their mobile contacts from their handset – or their PC. Also available to users at no additional charge is access to AT&T's entire national Wi-Fi network — any Captivate with the Wi-Fi turned on will automatically connect when in range.

Not just for social networking and messaging, the Captivate truly brings your home and office computer to the palm of your hand with support for push email and integrated calendar services, including Google™ and Yahoo for consumers and small businesses and ActiveSync for enterprise users. Messaging is simple and easy with the Captivate's virtual QWERTY keyboard with Swype technology, which allows users to input text faster and in a more intuitive way with one continuous finger motion across the screen keyboard.

True Mobile Entertainment

In addition, the Captivate features best-in-class entertainment features, including future access to Samsung Media Hub, a full library of video and literary content powered by some of the biggest names in entertainment. Samsung Mobile looks forward to sharing additional information about Media Hub in the near future and the Captivate will feature a pre-loaded app that can take users to download Media Hub in the future. The Captivate features Samsung's All Share application, which enables inter-device connectivity through DLNA (Digital Living Network Alliance) technology, allowing users to send user-generated video content wirelessly to other DLNA-enabled devices, such as TV's, monitors and laptops, allowing for a rich, interactive entertainment experience.

The Captivate is packed full of features that enhance users' daily life, including a 5.0-megapixel camera/ camcorder with auto-focus and HD video recording (720p)***, MP3 player, 3.5-millimeter headphone jack and expandable memory for photos, videos and music, up to 16 GB. This combined with an on-board 16 GB of storage allows for up to 32 GB of capacity for music and video.

The Captivate also includes AT&T Navigator, which offers voice-guided and visual turn-by-turn GPS driving directions with automatic reroute, full-color maps, and real-time traffic alerts and AT&T Family Map, which gives families the ability to track a child's location from a PC or cell phone and request location updates at any time.

Additional key specifications of the Captivate include Wi-Fi (802.11 b/g/n), full HTML browser with tap & hold zoom), Bluetooth® 3.0 technology. The Captivate also includes tri-band 3G connectivity and quad-band GSM technology, which allows AT&T customers to make calls in more than 220 countries and download data in more than 195.

The Samsung Captivate is scheduled for release in the coming months at AT&T retail locations nationwide or at http://www.att.com/wireless. For more information or to register for notification when available visit www.att.com/captivate . For the complete array of AT&T offerings, visit www.att.com.

*AT&T products and services are provided or offered by subsidiaries and affiliates of AT&T Inc. under the AT&T brand and not by AT&T Inc.

** Number one mobile phone provider in the U.S claim for Samsung Mobile based upon reported shipment data, according to Strategy Analytics, Q1 2010, Q1-Q4 2009 and Q3 and Q4 2008 U.S. Market Share Handset Shipments Reports.

*** HD video recording – Capture high-definition (720p) videos and photos for playback on your HD television.

1 3G coverage is not available in all areas.

2 Coverage not available in all areas.

3 Largest Wi-Fi network claim based on non-municipal company and owned and operated hotspots. An 802.11 b/g enabled device required. Other restrictions apply. See www.attwifi.com for additional services details and locations .

4 International roaming charges may apply.