AT&T gets Samsung Propel Pro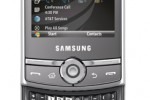 It looks like the Samsung Propel Pro is available for purchase, as AT&T has just announced that they now have it on their service. This is good news for those who have been waiting patiently for the device.
This phone runs on Windows Mobile 6.1 and has a slide-out QWERTY keyboard that's arranged vertically. Though this phone is meant for texting and e-mailing primarily, it also has 3.6Mbps 3G and Wi-Fi plus assistive GPS.
Other specs include a web browser, media playback, a 528MHz processor, 256MB ROM and a microSD card slot that supports up to 8GB-sized cards. You can get the Samsung Propel Pro on AT&T now for $149.99 with a two-year contract.