AT&T gets LCD packing LTE modem called Beam from Sierra Wireless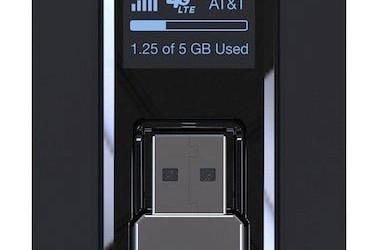 AT&T has announced that it has a new USB modem available for customers that operates on its 4G LTE network. The modem is called the Beam from Sierra Wireless. One of the most interesting features of the USB modem is that it has an integrated LCD screen.
That LCD screen gives the user of the modem all sorts of interesting information including a network signal strength indicator, what type of network are connected to, and how much data is being used. It's very easy-to-use more data than you're allotted on your plan and run up a significant bill, so having how much data you have used right on the modem is very helpful indeed.
The modem can also be used as a storage device thanks to an integrated memory card slot supporting microSD cards of up to 32 GB in capacity. The modem is also capable of roaming allowing you to connect to the Internet in more than 210 countries. AT&T says that the modem is plug-and-play compatible so you don't have to worry about software.
The modem supports Windows 7, Windows 8, and Windows RT laptops and tablets. When connected to Windows 7 laptops, the modem can also be used as hotspot to share 4G connectivity with up to 10 other devices via Wi-Fi. The Beam will launch on May 10 in AT&T stores around the country and online for $19.99 with a two-year agreement. The mobile plan with 5 GB of data will cost $50 per month.
[via AT&T]