AT&T Garmin nuvifone G60 arriving October 4th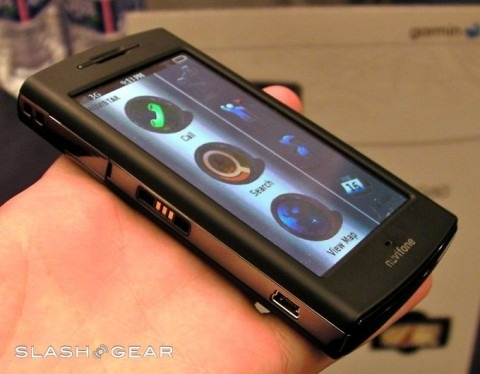 It's only taken them a couple of years, but Garmin have finally announced a release of the nuvifone G60 in the US.  As of October 4th the touchscreen GPS-centric handset will arrive on AT&T, priced at $299 following a $100 mail-in rebate and assuming you're willing to sign two years of your cellular life away to the carrier.
That gets you a 3-megapixel autofocus camera with GPS geotagging, the UI from Garmin's standalone PND range and both 3G access together with AT&T's WiFi hotspots.  For a further $5.99 per month you can have the so-called "Premium Connected Services", which nets you traffic updates for the PND app, weather reports, movie and local events listings and fuel prices, together with white pages access.  You know, the sort of stuff you can find online.
It's hard not to look at the nuvifone G60 and think "you're a bit too late".  If the handset had arrived a year or so ago, when Garmin first said it would, then this could've been the flag-bearer for the location-centered mobile world.  Now it's looking a bit old-hat, frankly.
Press Release:
AT&T and Garmin Announce a New Mobile Navigation Era with nuvifone, the Navigation Phone

The Garmin nüvifone™ G60 Coming Soon to AT&T Customers

Dallas, Texas, Olathe, Kansas, September 29, 2009

AT&T* and Garmin International Inc., a unit of Garmin Ltd. (NASDAQ: GRMN) today announced the Garmin nüvifone G60 will be available beginning October 4 only for AT&T customers in the U.S. in AT&T stores and online at www.wireless.att.com.

The nüvifone G60 provides one of the easiest-to-use location experiences available because it is the only phone to fully integrate the world's best selling GPS navigator with voice, data and mobile web.

"Personal navigation devices are already all about mobility and taking the Garmin experience everywhere as your mobile phone is truly compelling for customers who travel often," said Michael Woodward, vice president, Mobile Phone Portfolio, AT&T Mobility and Consumer Markets. "We expect the nüvifone to be the guide for local restaurants, the least-expensive gas and the nearest coffee shop for many customers."

"The nüvifone weaves location into nearly every facet of its functionality making it ideal for people who depend on location to navigate everyday life," said Cliff Pemble, Garmin's president and COO. "The nüvifone has Garmin's easy-to-use interface, so navigating to a meeting directly from its calendar or contacts pages, or geotagging an email or photograph with a location stamp, is intuitive, useful and fun".

Navigate with turn-by-turn guidance

The nüvifone G60 has the same core features as a high-end Garmin nüvi® and comes preloaded with maps and millions of points of interest (POI) for North America. Customers who purchase a nüvifone will have everything that they need to use the device as an in-car navigation unit including a dashboard and windshield mount. The device can easily be mounted in the car or detached for portable navigational use.

Because the maps reside on the nüvifone customers always have access to navigation and they can receive turn-by-turn voice-prompted directions that speak street names to millions of destinations. If a turn is missed along the route, the nüvifone will automatically recalculate a route and get the user back on track. The nüvifone is able to provide reliable location information in the most challenging conditions because it has a real GPS receiver with Garmin's HotFix™ technology and assisted GPS.

The nüvifone also has a "Where am I?" feature so users will know their exact latitude and longitude coordinates, nearest address, intersection, hospital, police station and gas station with one touch of the screen. Another great feature of nüvifone is for users who cannot find their car in an unfamiliar spot or crowded parking lot, nüvifone will automatically mark the position in which it was last removed from the windshield mount.

Surf the web

Nüvifone customers are just one click away from a full HTML browser that can be accessed via the nation's fastest 3G network, or AT&T's more than 20,000 Wi-Fi hotspots. Garmin's location link, which parses addresses on the web with latitude and longitude information, allows customers to easily navigate to addresses they discover on the web by simply touching the address. The touch-screen virtual keyboard which includes predictive text, is customizable to QWERTY or A to Z to allow customers to easily type in web addresses or send and receive text messages

Capture quality photos

The nüvifone G60 also includes a three megapixel camera with auto-focus. The camera automatically geotags images with an exact latitude and longitude reference of where the image was taken. Customers may then save the image so they can navigate back to the location, or email the geo-tagged image to others.

Stay connected

In addition to millions of preloaded POIs, customers can supplement the data with additional free and subscription content. The nüvifone includes free access to AT&T's Yellow Pages, flight status and converter. Premium Connected Services gives customers subscription access to real-time traffic information, fuel prices, White Pages, weather and more.

Price and Availability

The nüvifone G60 will be available in AT&T stores or at www.wireless.att.com on October 4 for $299 with a two year service agreement after $100 mail-in-rebate. Nüvifone Premium Connected Services which includes traffic updates, white pages, weather, movie, local events and fuel price content are available for $5.99/month after a 30-day trial.

For the complete array of AT&T offerings, visit www.att.com.

Additional information about the nüvifone product line is available at www.nuvifone.com.

1 Coverage not available in all areas. Other terms and conditions apply.

2 AT&T Promotion Card: Card valid for 120 days wherever major credit cards accepted. May be used to pay wireless bill. Not redeemable for cash and cannot be used at ATMs or gas pumps. Some restrictions and other charges apply. See terms at store or at att.com/wirelessrebate. Limited-time offer. Other conditions & restrictions apply. See contract, rate plan brochure and rebate form at store for details. Subscriber must live & have a mailing address within AT&T's owned wireless network coverage area. Up to $36 activation fee applies. Equipment price & avail may vary by market and may not be available from independent retailers. Messaging or Data package may be cancelled anytime. Early Termination Fee: None if cancelled in the first 30 days, but a restocking fee up to $20 may apply; thereafter up to $175. Some agents impose additional fees. Allow 60 days for fulfillment of AT&T Promotion Card. You must be customer for 30 consecutive days to receive Promotion Card. Offer expires November 21, 2009.

*AT&T products and services are provided or offered by subsidiaries and affiliates of AT&T Inc. under the AT&T brand and not by AT&T Inc.