AT&T Galaxy S III Mini up for pre-order, offers Snapdragon 400 and battery boost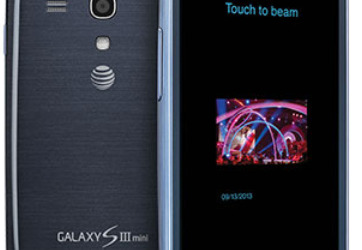 Following confirmation last week from AT&T about its upcoming Samsung Galaxy S III Mini plans, the carrier has put the budget smartphone up for pre-order at $0.99 with a two-year contract. With the AT&T version comes some hardware boosts, with the original processor being swapped out for a Snapdragon offering, as well as a larger battery being included.
Previously, the Galaxy S III Mini was shipped with a NovaThor dual-core processor, something that has been exchanged for a more powerful 1.2GHz dual-core Snapdragon 400 processor running alongside 1GB of RAM. The battery has also been boosted, going from the original 1,500mAh capacity to a higher 2,000mAh hours.
Whether the battery capacity increase will bring a longer lifespan given the 4G LTE support and faster processor is yet to be seen (AT&T says to expect 11 hours of talk time), but overall both changes are certainly favorable upgrades. Those two aspects aside, the Galaxy S III Mini features a 4-inch with a decent resolution of 800 x 480 (217dpi).
Other particulars include internal storage up to 8GB, with that being expandable up to 64GB via a microSD card slot. There's 4G LTE support, HSPA+, NFC, Bluetooth 4.0, and mobile hotspot with support for up to 10 devices. The software is Android 4.2 Jelly Bean. Overall, though still a budget device, this little handset has received a fair hardware update that allows it to hold its own.
As mentioned, those who elect to grab the handset with a 2-year contract can get the device for 99 cents. Those who go for the 1-year contract option will have to fork out $250.99, though, and month-to-month has it priced at $284.99. There's also the AT&T Next program option, which prices the smartphone at $14 per month for the duration of 20 months, bringing the total cost to $280 USD.
The AT&T Galaxy S III Mini begins shipping tomorrow.
VIA: Android Community