AT&T Dell Aero Android smartphone on sale today [Update: 1.5 Cupcake confirmed]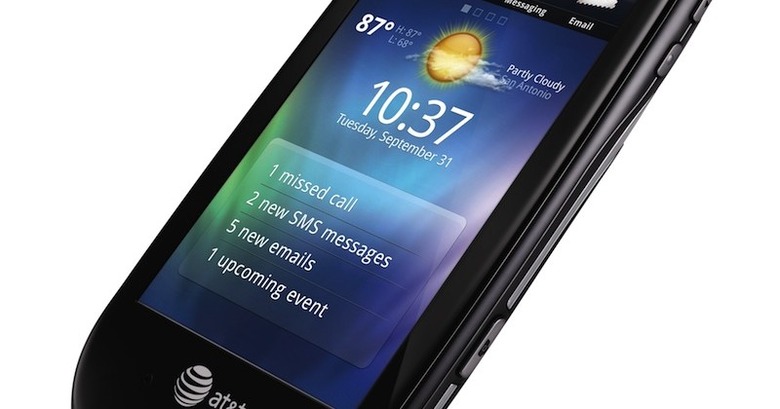 Dell's first Android smartphone to reach the US, the Dell Aero, has just hit the virtual shelves.  Priced at $99.99 with a new, two-year AT&T agreement, the Dell Aero has a 3.5-inch 640 x 360 touchscreen, 5-megapixel camera, triband UMTS/HSPA, WiFi and Bluetooth, and is based on a 624MHz Marvell CPU.
Video demo after the cut
There's also a microSD card slot – with a 2GB card preloaded – together with a Flash Lite browser, GPS/A-GPS, quadband GSM/EDGE and Android Market access.  Android itself has been tweaked with Dell's own enhancements, and Quick Office, Facebook with integrated calendar and contacts, and Twitter will all be preloaded.
As well as the contract option, the Aero is available commitment-free for $299.99.  Dell say it will also go on sale through AT&T themselves imminently.
Update: We've spoken to Dell, and they've confirmed the Aero is still running Android 1.5 Cupcake.  They're calling the OS a "superset" of Cupcake, however, due to their modifications:
Dell developed a tremendous amount of customization and features on top of cupcake to deliver the experiences that matter most to customers. Popular features Dell incorporated on top of cupcake include Microsoft email with Active Sync, handwriting recognition, one-click upload of photos to social sites. We've also pre-loaded popular applications such as Facebook with integrated phonebook and calendar, added a connection manager, and implemented Search on the device or web.

Additional benefits for the Dell Aero:

·         Dell Aero comes with an 8x zoom with on-device photo & video editing functionality

·         Asynchronous BT/Wi-Fi

·         Multiple widget support

·         Sync with Windows Media Player

·         Desktop Suite Syncing tool – includes syncing with iTunes (Non DRM)
Press Release:
Dell Creates Freedom, Style and Performance to Explore Life's Biggest Moments on New 3.5-Inch Android Smartphone

NEWS:

· Dell's first U.S. smartphone, the Dell Aero, is available today in a polished graphite finish at Dell.com/mobile, by phone at 1-800-308-DELL, and coming soon to www.wireless.att.com. Dell Chat representatives are standing by 24 x 7 to answer Dell Aero related questions.

· The Dell Aero is available for $99.99 with new AT&T* two-year contract†, and $299.99 without.

FREEDOM IS CALLING

Dell Aero, one of the lightest multi-touch 3.5-inch Google Android-based smartphones in the U.S., is designed to deliver a powerful, flexible, and entertaining experience in a stylish and compact design. Packed with today's popular features, the Dell Aero will ship with Quick Office, Facebook with integrated calendar and contacts, Twitter and additional applications by Google, including YouTube and Android Market.

With AT&T's Wi-Fi network, and the nation's fastest mobile broadband network, today's social media mavens can simultaneously make voice calls and Tweet friends, post Facebook updates, share pictures or browse the Web. AT&T has the nation's largest Wi-Fi network with more than 20,000 U.S. hotspots.*

Dell is a member of the Open Handset Alliance (OHA), a group of technology and mobile companies working to accelerate innovation in mobility. Together, the OHA created Android, the first complete, open and free mobile platform to provide people a rich, inexpensive and exceptional mobile experience.

QUOTES:

"The Dell Aero is built with a focus on style and performance to help people find new ways to connect with friends and express themselves socially supported by the nation's fastest mobile broadband network." – Ron Garriques, president, Dell Communication Solutions

DELL AERO FEATURES:

· One of the lightest Android smartphones in the U.S., on the nation's fastest mobile broadband network

· Experience YouTube and other Flash content in nHD

· 5-megapixel camera with 8x zoom, flash, dedicated camera key and advanced shooting and editing capabilities

· Connect with friends with one-touch access to social networks

· Multi-task with GPS, plus hands-free conversations

· Wi-Fi access at more than 20,000 AT&T Wi-Fi hotspots with qualifying AT&T service plan

DELL AERO SPECIFICATIONS:

· Android platform complete with Android Market and Dell user interface enhancements

· 3.5-inch (640 x 360p) capacitive multi-touch display with pinch-to-zoom functionality

· Quad-Band GSM/GPRS/EDGE (850/900/1800/1900 MHz)

· Tri-Band UMTS/HSDPA (850/1900/2100 MHz)

· WiFi + Bluetooth

· 2 GB* on board user accessible Micro SD with expandable memory available up to 32 GB*

· Full HTML Browser with Adobe Flashlite

· GPS/A-GPS navigation

· POP, IMAP, Webmail and Microsoft Active Sync E-mail

Follow conversations in the blogosphere: #DellAero