AT&T blames Apple for iPhone 4S upgrade eligbility restrictions

Apple finally unleashed its next-gen iPhone yesterday, which turned out to be a moderate upgrade in the form of an iPhone 4S instead of an iPhone 5. Nonetheless, plenty of loyal Apple fans, early adopters, and current iPhone 4 users may still want to upgrade, but they may find themselves ineligible for the new subsidized pricing starting at $199. At least one AT&T customer service rep is reportedly telling customers that Apple is to blame for this.
Apple had posted links on its page yesterday to allow customers from both AT&T and Verizon to see if they're eligible for upgrades to the iPhone 4S. Many current iPhone 4 owners may find that they will instead have to pay full retail price for the iPhone 4S, which starts at $449 for the 16GB model, $549 for the 32GB model, and $649 for the 64GB model. That's quite a difference from the corresponding subsidized prices of $199, $299, and $399.
Although it's difficult to see why any current iPhone 4 user will want to upgrade to the iPhone 4S and not wait for the iPhone 5, this should give them further reason to be patient. Furthermore, there's at least one report that customers who contacted AT&T's customer service were told that the eligibility and pricing structure are all dictated by Apple and that the carrier has no way to change eligibility requirements regardless of how loyal a customer you've been.
On the other hand, if you're a completely new customer not currently locked into an iPhone plan, you're welcome to the subsidized iPhone 4S for the improved 8-megapixel camera, faster A5 dual-core processor, and Siri voice-control Assistant feature. Make sure to check out our iPhone 4S hands-on. Pre-orders begin October 7 with shipments starting October 14.
If you inquired about upgrading to the iPhone 4S, did you get a similar response from either AT&T or Verizon?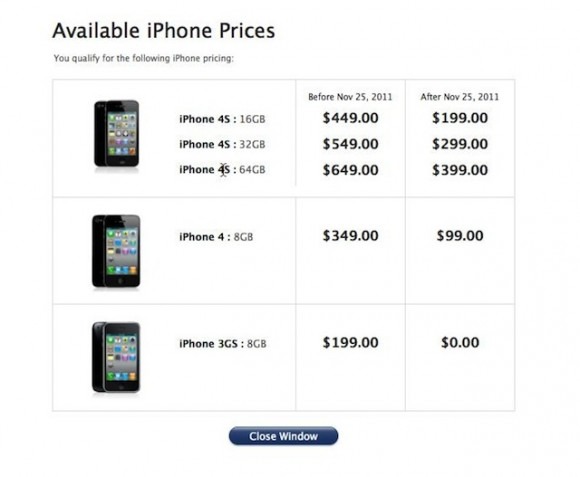 [via Cult of Mac]