AT&T announces availability of mini-laptops, starting at $49.99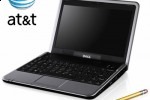 AT&T announced today that they're releasing multiple mini-laptops with built in 3G capabilities. AT&T is subsidizing the cost of the laptops, bringing the initial cost down to as low as $49.99 with the purchase of the AT&T at home and on the go mobile broadband services. With the service, customers will also be able to access AT&T Wi-Fi hotspots around the country. Those broadband plans start at $59.99 a month.
There are several models of laptops available, including the Acer Aspire One, Dell Inspiron Mini 9 and Mini 12, and LG Xenia. Promotional prices range from $49.99 to $249.99 with the purchase of an AT&T broadband plan, starting at $59.95 per month. Without the AT&T contract, these mini laptops range in price from $449.99 to $599.99.
Also available are full size notebooks from makers such as Lenovo, and those models start at $749.99 with the purchase of the At Home and on the Go broadband services. According the press release, these deals are available at 8 AT&T stores in Atlanta at the moment, but here's to hoping the deals will be available elsewhere soon.