AT&T and T-Mobile waive late fees for customers affected by Hurricane Sandy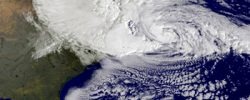 AT&T and T-Mobile are offering waived late fees and extended service for users in states affected by Hurricane Sandy. The storm has caused widespread outages in both electricity and mobile phone service along the east coast. In addition, both companies are offering customers ways to charge their mobile devices.
First up is AT&T, which is extending its late payment terms for customers in the storm's path, as well as waiving late fees. In addition, the company is offering in-store charging via its retail stores, of which there are 400 locations in the northeast, as well as charging at charging stations and RVs powered by generators. It didn't specify how long the extension and waived late fees will be applied.
T-Mobile is offering a similar program, providing service to both contract and prepaid customers whether or not they've paid their bill in New York City, Long Island, New Jersey, Pennsylvania, and Connecticut. In addition, users can charge their phones in any T-Mobile retail store; the company says that customers should call before showing up to ensure that the store has power. This offer is in place up to November 8.
Said AT&T's northeast regional president Steve Hodges, "Our goal here is to help people stay connected to family and loved ones in the aftermath of this terrible storm." AT&T customers can donate $10 to relief efforts by texting REDCROSS to 90999, STORM to 80888 to donate to the Salvation Army, and HUMANE to 80888 to donate to the Humane Society. T-Mobile customers can make a $10 donation by texting REDCROSS to 90999, or can make a $25 donation by texting DONATE to 90999. AT&T customers can donate up to $50.
[via PCMag]