AT&T adjusts PS Vita's 3G data plan pricing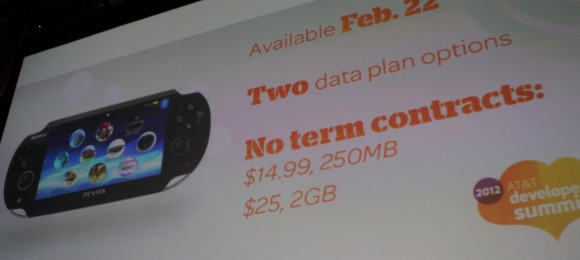 AT&T has made a small adjustment to its 3G data plan pricing for Sony's PlayStation Vita portable gaming console, which is set to launch in the US on February 22. The carrier originally announced the Vita's data plan pricing during CES earlier this month, but has now bumped up the top-tier plan.
The original data plans announced include one that offered 250MB per month for $15 and another that offered 2GB of data per month for $25. This second plan has now been adjusted with the bandwidth and cost increased to 3GB per month for $30. But other than that, the plans remain the same with free WiFi hotspot access, no contract, and recurring opt out.
It's not clear what inspired this change and it forces customers to pay more for an extra GB of bandwidth they may not need. The PS Vita has already launched in Japan, where its weekly sales numbers have dropped significantly since launch. It's set to launch in the US on February 22, with the 3G model priced at $299.99, while the WiFi-only model is priced at $249.99.
[via PlayStation Lifestyle]