AT&T Playstation Vita 3G drops Feb 22; data pricing confirmed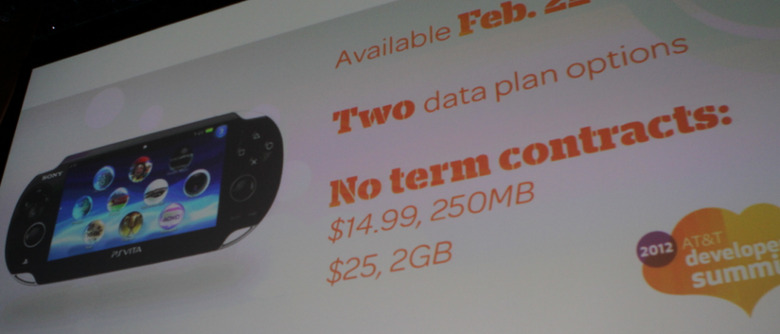 This week Kuni Suzuki of Sony spoke at the AT&T Developer Conference on the Sony PlayStation Vita, the Sony Tablet P, and other items – but of course you know the Vita itself, on AT&T's 3G network here and now, is the hero. The PlayStation Vita, Suzuki holding it aloft at the conference, will arrive on AT&T come February 22 2012; check out data plan pricing after the cut.
This device will have the biggest software lineup in the history of PlayStation – the biggest amount of apps available to the device as it launches, right out of the door, that is. You've got both 3G and wi-fi connectivity if you wish, and the rest of the party is there as well: party, microphone, and the lovely hardware launched in Japan already.
For the Sony Tablet P, he spoke on how it has optimally designed software made specifically for its two-screen interface, how its swift and smooth, and how it's got cross-device connectivity like blu-ray disk players and smart television — markedly connected with the following hero brands: Music Unlimited, Video Unlimited, PlayStation Certified, and Reader Store networks. They spoke on the Sony Ericsson Xperia Play, revealed recently to be carried by AT&T as well.
The PS Vita will be launched in the USA on AT&T on February 22nd 2012. This device will have two data plans available, no term contracts which include 250MB for $14.99 and 2GB for $25 – the data you need when you need it. Will you be buying in?