ATP GPS PhotoFinder mini gets reviewed: slow geotagging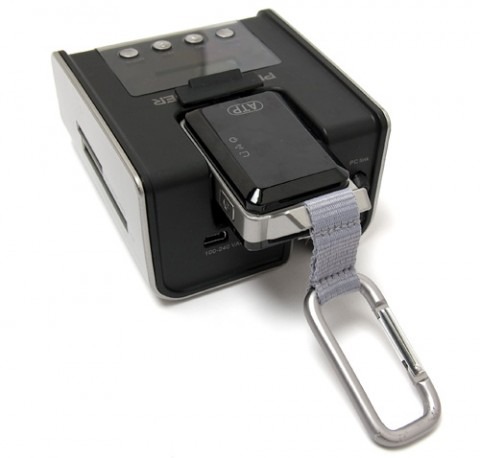 Geotagging and location-based services are fashionable right now, and if you have the right cameraphone then you could already be taking high-resolution shots with embedded GPS data.  If, though, you're using a standalone digital camera, it's far more unlikely that it has GPS built in; that's when something like ATP's GPS PhotoFinder mini steps in, a relatively cheap, standalone way to add location information to your photos.  OhGizmo have been trying the PhotoFinder mini out, and while it'll do what it claims on the box, you may find the drawbacks outweigh the benefits.
There are two main components to the ATP setup, the GPS logger itself – a compact box on a lanyard – and a dock which can niftily add location data to a memory card full of pictures without needing a computer.  Of course, you can hook it up to your PC if you want to – there's a built-in USB cable.
The good news is that it works: add a memory card (either SD, MMC, MS or CF) from your camera and the GPS logger itself, and the PhotoFinder mini combines location and image automatically.  Problem is, it does it very slowly: OhGizmo! found it took more than five minutes to process around 40 photos.  There were usability issues and some compatibility problems too; definitely worth checking out their review before you spend $120.