Atlona HDMI Extenders For Up To 825ft Between HDTV And Source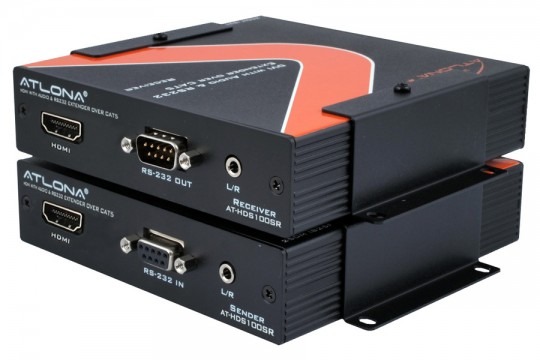 Atlona Technologies have unveiled their next high-end AV connectivity gadgets, and if you've ever lamented the limitations of lengthy HDMI cords then the AT-HDS100SR and AT-HDS250SR may appeal.  Each can take an HDMI input, stereo audio and RS-232 control signal and shuttle it over ethernet cable for up to 825ft.
That presents all sorts of possibilities for not only remotely locating media sources but controlling them as well, thanks to the serial port.  The sender/receiver pair will work with various types of twisted pair CAT5/6/7 ethernet cable, are HDCP compliant, and include an embedded equalizer with gain and CTI adjustment.
The AT-HDS100SR has a range of 330ft, while the AT-HDS250SR can manage 825ft.  Both will go on sale at the end of the month, priced at $449 for the AT-HDS100SR and $649 for the AT-HDS250SR.
Press Release:
Atlona releases their new line of HDMI Extenders with RS232 and Stereo Audio over Dual Cat5/6/7

Atlona Technologies, solutions based manufacturer of Audio Video accessories, is soon to release their newest line of HDMI Extenders featuring RS232 and Stereo Audio over Dual Cat5/6/7

Atlona Technologies, leading manufacturer of Audio Video Connectivity accessories, is excited to announce their soon to be released and newest line of HDMI Extenders, the AT-HDS100SR and AT-HDS250SR. These new HDMI Extenders, designed for long needed HDMI runs, are twisted pair transmitter and receiver modules which feature stereo audio as well as RS-232 data signals.

The transmitter units for the Atlona extenders convert HDMI along with stereo audio and RS-232 inputs to dual cat5/6/7. The receiver modules then converts that twisted pair signal back into the HDMI with stereo audio and RS-232 data signals. The AT-HDS100SR is capable of extending signal up to 330ft while the AT-HDS250SR extends signal up to 825ft. In these lengths, each HDMI extenders is still capable of maintaining high video resolutions up to 1920x1200 or 1080p with no signal degradation.

Atlona's new HDMI Extender units are stocked full of features including embedded equalizer, gain, and CTI adjustments as well as built in EDID for storing necessary data. Along with being HDCP compliant, these units come included with wall mountable brackets for any custom or commercial installer. With the ability to extend HD signal long distances through cost-effective CAT5/6/7 cables, along with combination of all the attributes needed, the AT-HDS100SR and AT-HDS250SR Extenders are perfectly designed for any high-end Commercial integrator.

These units will be available at the end of August with the following MSRPs:

AT-HDS100SR: $499.00

AT-HDS250SR: $649.00