Atlis XT Pickup is an EV with 20,000 pounds towing and 5,000 pound payload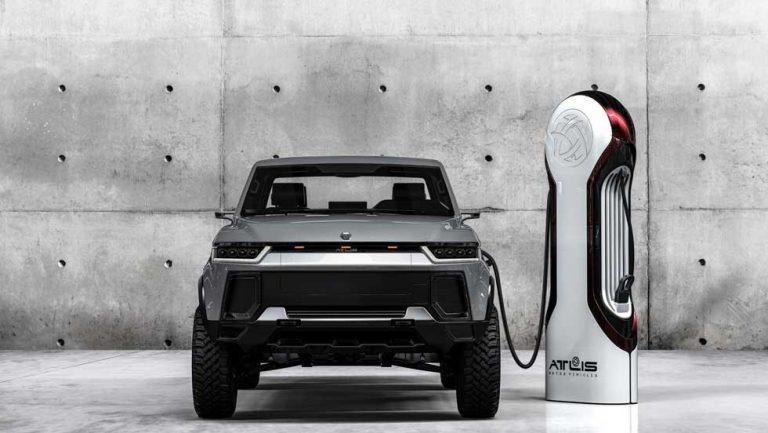 A company called Atlis Motor Vehicles has revealed its electric pickup truck named the XT Pickup Truck. The truck will be offered in single and dual rear wheel versions. Both have top speeds of 120 mph, can do 0-60 mph in 5-seconds, and has an 18-second 0-60 mph time at max GCRW.
There are several versions of the truck that can tow 5,000, 10,000, 15,000, or 20,000 pounds on the hitch. Fifth wheel and gooseneck trailer towing capacities are 10,000, 15,000, 20,000, 25,000, 30,000, or 35,000 pounds. The electric truck can take 1,000, 2,000, 3,500, or 5,000 pounds of payload in the bed.
In situations where traction is essential, the XT Pickup can independently control power delivery and braking to each wheel. Several suspension options are available including standard air spring with dynamic load damping and 12-inches of ground clearance and an optional off-road suspension. That off-road option includes long travel suspension with 15-inches of ground clearance, this option is unavailable with higher towing and payload options.
Since there is no motor under the hood, that space is turned into a front cargo trunk. That front storage is easy to unload thanks to the ability to lower the front of the truck as needed. Traditional side mirrors are replaced by side cameras that feed video to screens on either side of the wheel.
Atlis is moving to Level 5 autonomous driving tech in the future, the standard is Level 1 driver assistance with adaptive cruise. Optional advanced adaptive cruise and parking and lane keeping are offered. An onboard air compressor is integrated, and the truck is offered with 6.5 or 8-foot beds in an extended cab or crew car configuration. Reports suggest that the truck will start at $45,000 and launch in late 2020.