ATI Shows Off Wonder Tuners For Desktops And Notebooks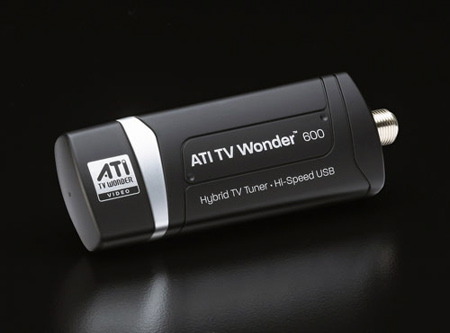 Laptops are great, they're (usually) light and portable, they give you access to data just about anywhere that you'd want. Unfortunately you pay the price with that lack of functions that are available to you. However, these days it's becoming more common to devices you would normally only see in desktops shrunk down to a more portable size. Take ATI's new TV Wonder Card for example.
Their latest USB Wonder card offering is the Wonder 600 USB which allows you to recored HD content onto your notebook's hard drive. It has TiVo-like functions, so you can have all those fun tools on the road.
For those that prefer to keep those features on your desktop, they're also releasing a desktop version called the 650 PCIe which houses dual tuners. You'll also get over-the-air programming as well. We're still not sure on pricing, though we expect to see these hitting shelves sometime in September.
ATI's TV Wonder Tuners Bring HDTV and DVR Capabilities to Your Laptop and PC  [via gearlog]