Atheros dual WiFi a/g/n & Bluetooth mini-card debuts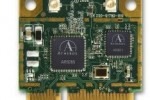 Atheros have announced what they're claiming to be the industry's first half-mini PCI card with both WiFi a/b/g/n and Bluetooth 2.1+EDR.  The fetchingly-named Atheros AR9002WB-1NGB allows for simultaneous use of each wireless system, and is also software-upgradable to Bluetooth 3.0.
The drawback – and isn't there always one, just to spoil our networking fun – is that the card doesn't support dual-stream wireless-n, only single-stream.  That means it's limited to a theoretical 150Mbps maximum, not 300Mbps as we more usually associate with 802.11n.
Still, the theoretical maximums are just that – only achievable in theory – and the promise of a super-compact networking card that squeezes two must-have standards into a tiny space has plenty of promise for netbook, UMPC and MID owners.  That's not only size, but power savings too.  The Atheros AR9002WB-1NGB is Linux, Windows XP, Vista and Windows 7 compatible; no word on when we might see it showing up in ultraportable devices.
[via Gadgetmix]